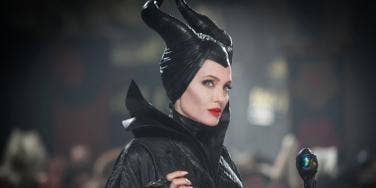 These 13 Disney villains make being bad look good. Get some inspiration for your 2015 resolutions!
Everyone loves Disney princesses. Generally, they're graceful, beautiful, sweet and precocious. That's fine. I understand it. But a lot of times, in terms of actual intelligence, decision-making, humor and, well, role model material, Disney villains are often a lot better to look up to than their supposedly "good" counterparts. (Who better to illustrate that than reformed bad girl turned mother of all Angelina Jolie as Maleficent?)
In the true spirit of evil and "bad" things, here are 13 solid love and life lessons from Disney villains who making being bad look deliciously good. Use them to inspire your New Year's resolutions for 2015!
1. Read the fine print.
If Ariel had been smarter in The Little Mermaid, she would have thought twice about signing away her voice for all of eternity. Everything was made pretty clear in Ursula's contract. Then King Triton gets all mad and has to bail his disobedient, impulsive kid out yet again. Why is it the entrepreneurial sea witch's problem that customers lack foresight? Respect her hustle.
Photo: IMDB
2. Kids are the worst.
Scar pretty much orchestrated the murder of Mufasa in The Lion King, then convinced Simba it was Simba's fault. Which, well, it sort of was, because Simba didn't listen to his father. Simba is basically the Disney equivalent of The Walking Dead's Carl Grimes. WHY CAN'T YOU JUST LISTEN TO YOUR DAMN PARENTS?
Photo: IMDB
3. Vanity will drive you insane and make you do dumb things.
The Evil Queen in Disney's Snow White was actually, by most objective, aesthetic accounts, a lot hotter than Snow White herself, despite the magic mirror saying otherwise. If she were a nicer person, there wouldn't even be any issue there. But instead, she went crazy and cast a spell that actually made her older and uglier in hopes of killing Snow White. If she could cast a spell to make herself hideous, you know what else she probably should've been able to do? Cast a spell to make herself prettier. Or just moisturize more often or something.
Photo: IMDB
4. Seriously, don't do voodoo.
For real. It never ends well for anyone involved.
Photo: IMDB
5. Embrace what makes you different. Let it go.
Before you flip out and tell me that Elsa is a Disney princess (then a Disney queen) and not a Disney villain, know that when Frozen was being developed, Elsa actually was originally conceived as the primary antagonist. That said, if no one can accept you for what makes you awesome, go build your own palace and tell them to go f*ck themselves. Do you.
Photo: IMDB
6. You can overcome trauma to do great things.
I won't spoil Maleficent for you if you haven't seen it (and you should, because it's awesome). Just know that in the Angelina Jolie version of Sleeping Beauty, Maleficent overcomes something really horrific and goes on to f*ckin' slay.
Photo: IMDB
7. Sometimes it takes a creep to know a creep.
Remember when Jafar was super-suspicious of Prince Ali in Aladdin? That's because rats can smell other rats. If a guy you can't stand really thinks another dude is a prick, he's probably at the very least a fraud. Heed the warning and take your magic carpet and run for the hills. (Or at least proceed with a lot of caution and don't give him your credit cards.)
Photo: IMDB
8. Play fair ... most of the time. Also, be a feminist. (Really.)
In Mulan, Shan Yu was the leader of the Huns, and he was smart, strong and often gave his enemies an otherwise unfair advantage before he savagely defeated and killed them. That's pretty awesome if you think about it, and honestly, given that information, he deserved to win. What's more? Shan Yu never doubted Mulan in terms of battle strategy and strength, to the point where he knew she was the fighter most likely to threaten his victory. He may not have been entirely evil so much as just really, really badass. Bow down, bitches.
Photo: IMDB
9. Make the most of what you've got.
Being the God of the Underworld may not be too much fun, but in Hercules, Hades is still very much aware that he's still a God. And despite being a God, he keeps striving for more and has a sense of humor about everything. Also, like the aforementioned Ursula, he's a very clever deal-maker.
Photo: IMDB
10. Know your worth.
Sure, Gaston may be a bit of a chauvinist and a bad reader, but he's also sort of heroic. Hear me out: In Beauty And The Beast, he avidly pursues Belle because he loves her almost as much as he loves himself. When a monster kidnaps Belle's dad and then Belle, he tries to rescue them using his battle prowess and brute strength. He's confident and oozes machismo. Is that really so bad?
Photo: IMDB
11. Dress to impress.
You shouldn't necessarily have to kill a bunch of puppies to do so, but you should make an effort to look sharp.
Photo: IMDB
12. Eliminate those who make you unhappy.
Sometimes mass beheadings really are the quickest and most effective way to get rid of riff raff. Alternatively, you can also delete whiny Facebook friends and block your exes from calling you.
Photo: IMDB
13. There is nothing wicked about booty.
Listen, I look a lot like Drusilla. And I'm doing just fine.
Photo: IMDB
Previous
Next
BEGIN