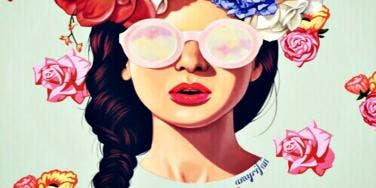 Caution: You may experience heart eyes at the sight of these super lush products!
If you're like me, scoring makeup and beauty products that are not only in your price range, but actually work wonders will either make you want to do a special victory dance or scream and shout to anyone who will listen. As a beauty fanatic who takes makeup very seriously, finding the right products that compliment my skin perfectly and fit into my everyday beauty regimen is sometimes a rare occasion. That's just one of the reasons why keeping my spending habits in check can be pretty hard—especially when I spend so much time worrying about what to skip or splurge on before its gone.
What would you say if I told you that you don't have to go very far to snag the best makeup products on the market? No, this is not a drill and you are not dreaming! It's all about knowing how to get the best bang for your buck.
Whether you're shopping for the holidays, your BFF's birthday or just want to get yourself a much needed relaxing gift (because you deserve to treat yourself, girl!), you're sure to find something that fits your fancy in this makeup guide for every budget. Start your 2015 right with this sexy beauty swag!
Photo: Weheartit
1. Revlon Highlighting Palette
One of the major perks of Revlon's Highlighting Palette (which comes in three different shades) is that it enhances your complexion and gives your skin a healthy glow. Currently $10.99, there's an awesome deal that will let you get the second set for half the price. Grab a palette or two for yourself here.
Photo: Revlon
2. Diptyque Multi-Use Exfoliating Clay
3. Julep Konjac Cleansing Sponge
Beauty aficionados and beginners, get prepared to fall head over heels for this amazing sponge by Julep that actually works! With the Japanese Konjac plant as its main ingredient, it will leave your skin feeling smooth and looking clearer.
Not only is it completely natural, it's also biodegradable. Get it here for $12.
Photo Courtesy of Julep
4. Revlon Colorstay Moisture Stain
This luxurious line of lipstains is packed with Vitamin E and Aloe, which help keep your lips moisturized without being ultra oily or sticky. With 12 bright shades to choose from that come in at $9.99, your lips will never look plain ever again! Get yourself some swag (and check out the amazing buy one, get one half off deal) here.
Photo: Revlon
6. Birchbox Davines Replumping Superactive
Birchbox's hair formula will give your 'do looking that sexy and volumptuous look without any of the frizz. The best part is that it will leave your hair feeling super hydrated and healthy. Grab the Davines Replumping Superactive for $39.50 here.
5. Aveda Nourish-Mint™ Smoothing Lip Color
At $16, Aveda's Nourish-mint™ Smoothing Lip Color comes in a variety of shades that are perfect for all skin tones. Having the stats to back it up doesn't hurt either. According to the site, 75% of women attested to having fuller lips after using this moisturizing lipstick line for a mere two weeks! Check it out here.
Photo: Aveda
9. Jane Cosmetics Naughty Or Nice Eye Shadow
This eye shadow set featuring four bright shades should definitely be in every girl's makeup bag. What's even better is that Jane Cosmetics will donate one beauty product per purchase to women's shelters (with the tagline Buy-One, Give-One To A Neighbor In Need). If that doesn't get you to fall in love with them, I don't know what else will.
Get it here for $22.
Photo Courtesy of Jane Cosmetics
Previous
Next
BEGIN