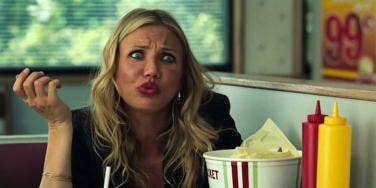 Cameron Diaz has some of the best (and most bizarre) love quotes ever.
In case you hadn't heard yet, Cameron Diaz is now married to Benji Madden. Also, Benji Madden is the singer from the band Good Charlotte, and they used to be a big deal. Now the most famous thing about Benji Madden is that he's married to Cameron Diaz. Basically, Cameron Diaz is married to a regular person, because no one listens to Good Charlotte anymore.
Obviously, no one really cares what Benji has to say, but Diaz is still famous and people let her talk into microphones all the time. If she has an opinion about something, she'll definitely say something weird about it. Since a lot of her movies have been about relationships and dating, she's often asked about that. She even dated Jared Leto, who knew? So, since she's married now, we've collected some of her best quotes about relationships, love, dating, sex, and other weird stuff she's said. We didn't collect any Benji Madden quotes, because they're all basically like "Hey, remember how I was famous a long time ago? Please remember how famous I was!"
If you're searching for the best quotes and memes to share with the people you love (or just want to feel inspired yourself) ... look no further! From the sweetest love quotes, inspirational sayings, and hilarious relationship truths, we've got you covered.
1. Cameron Diaz On Monogamy
To InStyle: "I don't know if anyone is really naturally monogamous."
Photo: IMDB
2. Cameron Diaz On Sexual Attraction
To Glamour: "And I think that all women have been sexually attracted to another woman at some point."
Photo: IMDB
3. Cameron Diaz On Her Girlfriends
To OK!: "I exist for all my girlfriends."
Photo: IMDB
4. Cameron Diaz On Dating Duds
To Cosmo: "We girls sometimes do the thing where we pick the same person over and over again — they look and seem different, but deep down, they're the same. And that's on us."
Photo: IMDB
5. Cameron Diaz On Traveling
To InStyle: "I'd love to go to space — it really is the next frontier."
Photo: IMDB
6. Cameron Diaz On Laser Hair Removal
In The Body Book: "Personally, I think permanent laser hair removal sounds like a crazy idea. Forever?"
Photo: IMDB
7. Cameron Diaz On Being Cheated On
To OK!: "Everybody has been cheated on, everyone will be cheated on. I can't fix that, I don't know how."
Photo: IMDB
8. Cameron Diaz On Her Wedding
To Parade: "I would probably make the phone call 20 minutes before the bus leaves for the chapel and ask if anyone is available to come. That's probably how my wedding is going to end up."
Photo: IMDB
9. Cameron Diaz On ... Private Parts
To InStyle: "Dye it blue if you want to..."
(She's talking about pubes.)
Photo: IMDB
10. Cameron Diaz On Making Plans
To OK!: "I don't worry about where I am going to go or what I am going to do, or how it's going to happen."
Photo: IMDB
Previous
Next
BEGIN