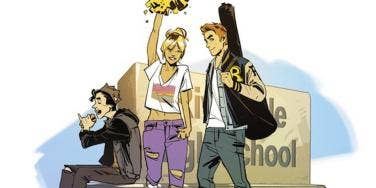 Archie comics aren't the only thing to become sexy for no reason.
You know Archie? The old fashioned comic about what kids were like back in the '60s, and it seems like it was probably kind of nerdy even for back then? Yeah, that Archie. You've probably never read it, but you know what it is.
Well, next year, Archie is getting a sexy reboot, as a modern teen with modern friends dealing with modern things like iPods and the internet and North Korean terrorists and Osama bin Laden's ghost haunting ALL OF AMERICA! (Almost none of that is confirmed, it's just what I'm assuming the new series will be about. Either that, or relationship drama.)
That's what we do these days. We take old things that used to be successful, and then to make them successful in today's world, we just make them sexier. It happens all the time. Modern pop culture is getting way too sexy. Scientists predict that by the year 2024, all forms of entertainment will just be porn and all of our moms and dads will be super disappointed ... Anyway, here are some things that used to not be sexy that have now been remade to be sexy!
Archie
This is the original Archie. For some reason, there are two girls, Betty and Veronica, swooning over him. Or maybe they're just fighting over that milkshake? That makes more sense to me.
Photo: Twitter
Original Spongebob Squarepants
Look at this guy! Spongebob Squarepants all about good times and fun and silliness. Also, if you find anything in this picture sexy, call the police, because that's where you're going to end up.
Photo: Nickelodeon
Sexy Spiderman
Now that's a Spider-man! He wears a mask, but only because if he tried to fight crime with those dreamy eyes, people would just fall in love all night long.
Photo: IMDB
Spider-man
This Spider-man is what a hero used to look like. Kids would look at this guy and think, "That's wo's going to save me!" What a bunch of weirdos.
Photo: IMDB
Sexy Chris Pratt
Hey Chris Pratt, this is what you were hiding underneath all that chub? Good for you, Chris, good for you.
Photo: IMDB
Chris Pratt
Chris Pratt is a lovable and funny guy. He was always so goofy on Parks And Recreation. He looks like a teddy bear. If you find teddy bears sexy, I'm going to run away from you forever.
Photo: IMDB
Sexy Batman
Christian Bale's Batman is so dark and mysterious. Seriously, is he aware that there are other colors than black? Does he know about colors? Colors aren't sexy, so probably not.
Photo: IMDB
Batman
Adam West's Batman came from simpler times. I can't tell if he's a little chubby or if that's just what passed for muscular in the '60s. Bleh. That's the sound I make when I see this Batman.
Photo: IMDB
Sexy Archie
ARCHIE IS CARRYING A GUITAR?! What?! Oh man! Is he wearing jeans?! This is out of control! Everyone, calm down and keep your pants on.
Photo: Twitter
Sexy Spongebob Squarepants
Look at this new Spongebob! He has rippling muscles! With an impressive attitude! Oh man, what a makeover!
Photo: Nickelodeon
Previous
Next
BEGIN