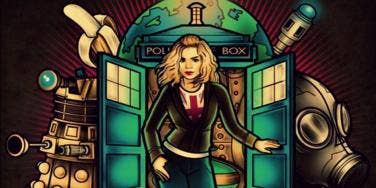 These nifty pieces are sure to WOW your socks off!
Aside from spending time with family and friends, one of the most heartwarming aspects of the holidays is getting to see the smile break out on their faces as they open holiday gifts. What makes this even better is when the gift is well thought-out and totally fits their personalities. As a total Sherlock Holmes nerd, I have no shame admitting that a lot of my nights are either spent binge-watching all of the episodes from the BBC Sherlock series or staying up until dawn trying to reread my favorite scenes from the original book series. One year, because of my obsession with everything related to the detective duo, my best friend surprised me with the official script from the series. Needless to say, I proceeeded to flip. Out.
That just cements the fact that when it comes to the holidays, there's no better time to be a nerd (or to shop for one). Seriously, it doesn't matter whether your friend is an oldies film aficionado or into modern comic books; there are so many options to choose from (which can make gift shopping seem a little daunting). If you're not sure where to find the perfect gift for the nerd in your life, you've come to the right place. From clever science related trinkets to quirky TV memorabilia, this holiday gift guide for nerds has got you covered.
Photo: Weheartit
1. Downton Abbey Holiday Gift Pack
If your friend is a wino and a Downton Abbey lover, this gift pack pretty much combines the best of both worlds. Included in this set are a candle in French Claret, two bottles of Blanc and Claret wines and tea in English Rose. Curling up with a chilled glass of wine has never looked so good.
Get Wine.com's Downton Abbey wine and tea set here.
2. Elemental, My Dear Shaker Set
Whether you're hopelessly devoted to the hit series from BBC or prefer Elementary, Sherlock Holmes fans will definitely get a kick out of this salt and pepper shaker set. Who could resist this geeky twist on the classic shaker?
Get Modcloth's salt and pepper shaker set here.
3. Star Trek Enterprise Pizza Cutter
Four words: Long live and pizza.
Get Amazon's pizza cutter for the trekkie and pizza lover in your life here.
4. William Shakespeare's Star Wars Collection
As a bona fide Star Wars and Shakespeare enthusiast, I have to comment on the sheer brilliance of this next gift. With the series transformed using Shakespearean language, there's no word to describe this mix other than epic.
Head over to Amazon for this amazing book series.
5. Doctor Your Dinner Party Glass Set
What better way is there for the Doctor Who fan to make shots a little more interesting than by drinking out of this awesome set of glasses? This is definitely what the Doctor ordered!
Check out Modcloth's sexy shot glasses (that comes in a set of four) here.
6. Jane Austen 'To Sip in the Shade' Mug
It'll be ridiculously hard for Jane Austen aficionados to not fall in love with this mug filled with her most famous quotes.
Head over to Amazon for this quirky literary mug.
7. Writer's Block
You and your friends may need some time to get over your initial fit of laughter over how cleverly designed this writer's block journal truly is.
Grab this gem from Book Depository.
Previous
Next
BEGIN