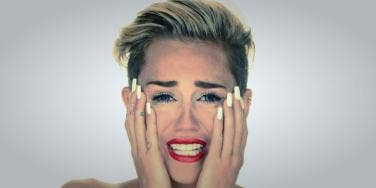 Maria Shriver doesn't approve of Miley Cyrus dating her son. Here are a few potential reasons why.
Miley Cyrus was quietly dating Patrick Schwarzenegger for months, but only recently went public with their romance: The pair were spotted making out last month at a USC game, and the couple kept the sexy party going at Art Basel in Miami last week. And by "party," we do mean party: Cyrus and Schwarzenegger were spotted boozing, glassy eyed and smoking what looked an awful lot like marijuana throughout the festival. And guess who wasn't thrilled with that? That's right: Patrick Schwarzenegger's blue-blooded, Kennedy-bred mother, Maria Shriver.
A source dished to Page Six, "Maria was going to go to Art Basel to spend some time with Anthony, but when she heard Miley was going to be there with Patrick, she canceled." Of course, that could easily from not wanting to kill Schwarzenegger's game more than disapproving of Miley Cyrus' naked antics, but gossip is gossip.
Another source dished that Cyrus is a bad influence on the budding male model, telling Page Six, "Patrick is anti-drugs, but Miley doesn't give a s*it. She smoked marijuana onstage, and God knows what else she was on for the rest of the weekend. She and Patrick were heard fighting about it, and also because his uncle Anthony had trouble getting into her party at the Raleigh. There's no way Patrick can be linked to drug use; his family is American royalty."
Oh, please. TMZ reported that Schwarzenegger was actually a harder partier than Cyrus is, and, as aforementioned, Schwarzenegger himself was photographed smoking weed right along with Cyrus. Still, there are plenty of reasons why moms, Maria Shriver in particular, wouldn't want Miley Cyrus dating their sons. Here are just a few.
Miley Cyrus can't keep her mouth shut.
The Kennedy family is notoriously secretive, and Miley Cyrus quite literally can't close her mouth. Whether it's her veneers, her tongue or just being obnoxious, that's not a good match for anyone involved.
Photo: VEVO
Miley Cyrus doesn't know who she is.
Miley Cyrus likes to call herself a "dirty hippie" now that she's working with Wayne Coyne of the Flaming Lips (like Kesha did before her). But remember this? When she wore grills (like Kesha did before her) and tried to be "urban" (like Kesha didn't even bother trying to before her)? Every time Miley Cyrus has a new album to promote or dates a new dude, her personality changes. She may want to spend more time finding herself and less time pretending to be someone else for attention or affection.
Photo: VEVO
Miley Cyrus is destructive.
Imagine what Miley Cyrus could do to a place like the White House.
Photo: VEVO
The world has seen Miley Cyrus naked. A lot.
Literally, the whole world has seen Miley Cyrus naked. Her music video for "Wrecking Ball" had some of the most plays on YouTube ever. Like, chances are Patrck Schwarzenegger's mom has probably seen Miley Cyrus naked. You know how tricky it is to have a "meet the parents" situation in normal life? Add celebrities to the mix. Then add nudity. Then add politics. That probably will be the most awkward Christmas dinner either family will have in a while, save for dining with housekeepers.
Photo: VEVO
There's a huge market for a Miley Cyrus sex video.
Considering that Patrick Schwarzenegger is seen on his cell constantly in his paparazzi photos with Miley Cyrus, would it surprise anyone if he got accidentally sloppy with his Smartphone and left the camera on? Then if he or Miley got hacked, like every woman in Hollywood did? Considering her video for "Adore You" was basically a masturbation sex video, adding in the son of Arnold Schwarzenegger and a Kennedy would make online peeping toms go bats*it crazy.
Photo: VEVO
Miley Cyrus associates with Terry Richardson.
Terry Richardson has been accused of being a sex offender. Is that someone you want your kid around? Or your kid's girlfriend? Or your potential grandkids (because you know how a lot of moms think ahead)? If so, call the police and turn yourself in for being a creep and possibly a negligent parent, or just a horrible person.
Photo: Twitter
Miley Cyrus often channels Marilyn Monroe.
Miley Cyrus looks great as Marilyn Monroe. She really does. But Marilyn Monroe has a history (and maybe even a sex video) with the Kennedys. That won't end well for her.
Miley Cyrus is the daughter of Billy Ray Cyrus.
You know how women tend to love men who remind them of their fathers? That means Miley Cyrus, on some level, thinks Patrick Schwarzenegger has something in common with the guy responsible for "Achy Breaky Heart" and, until recently, had a mullet. That's insulting to Patrick Schwarzenegger and to the mother who raised him.
Miley Cyrus can't dance.
Miley Cyrus lacks grace and coordination. What she thinks is "twerking" just looks like a hillbilly struggling to keep her balance in a tornado. Do you want to be near that at Aunt Ethel's 100th birthday party someday?
Photo: VEVO
Patrick Schwarzenegger looks constipated.
Most moms want a woman who will take care of her son as well as she could, which, if you're old fashioned, includes what the guy eats. And apparently, Miley Cyrus isn't really into cooking with a lot of fiber.
Photo: Instagram
Previous
Next
BEGIN