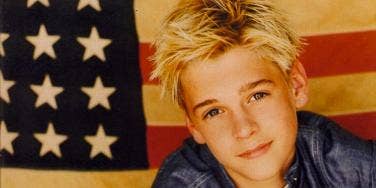 Think your exes are creepy? Check out these nutjobs.
Does anyone remember Aaron Carter? He was the younger brother of one of the Backstreet Boys, and for a while, the music industry tried really hard to make him a thing. (If you don't know who he is, go on YouTube and look up some of his stuff. While you're watching it, try to keep in mind that Aaron Carter's career was a serious thing. They weren't messing around or trying to be silly. Those were all serious attempts.)
His fame only lasted briefly, because you can only fake success for so long. After a while, Aaron Carter faded into obscurity, thankfully for those of us with taste. These days, he only really ever pops up when he starts making creepy references to Hillary Duff. You see, the two dated for a very short amount of time back in the day until he cheated on her with Lindsay Lohan back when she was riding on Mean Girls fame instead of her arrest record.
It's the sort of thing that everyone would have forgotten about, but Aaron Carter keeps being a creep about it. The two dated back before they were even adults, and now Hilary Duff is married and a mom. Meanwhile, Aaron Carter is still bragging about the time he beat Shaq. The point is, this relationship shouldn't be a big deal to him, but it's the only claim to fame he has left. Just recently, he tweeted a picture of himself watching the episode of Lizzie McGuire (Duff's old Disney Channel show) on TV. Surprisingly, moves like that haven't won back the love of his life. Hey Aaron, you're being a creep. Here's a list of the creepiest exes ever to grace the screen, otherwise known as people that you're acting like.
Duffy from 30 Rock
Dennis Duffy is that ultimate incarnation of that person that everyone ends up dating and they don't know why. They just trick you into accepting them for a few months. Everytime you see them, they haven't changed, and are convinced that you still want them. People like Duffy never learn, and they never get easier to be around.
Jason Schwartzman in Scott Pilgrim Vs. The World
It sucks when a really cool girl breaks up with you. Schwartzman's character in Scott Pilgrim Vs. The World handles the situation by forming a league with all of her exboyfriends and making them all fight her new boyfriend to the death. Yeah, hanging out with all of the other guys she dumped will make her see the error of her ways.
Tammy 2 on Parks and Recreation
If everytime you're with a particular person it ends violently, then just stay away from that person. Don't act like one of Ron Swanson's exes, Tammy 2, who seems to enjoy the violence.
The bad guy from The Karate Kid
Look, karate skills may seem really cool in high school, but when you grow up, and you're not a ninja, then they're just kind of lame. Also, if your ex-girlfriend starts hanging out with a new guy, having your gang beat him up isn't cool behavior. It's actually criminal. In real life, he won't have to beat you in a karate tournament, he'll just call the police.
Christian Slater in Heathers
If your girlfriend breaks up with you because you keep murdering people, then trying to murder her won't fix your problems. You need to learn how to communicate, not kill.
NPH in Gone Girl
Spoiler alert: This is a guy that really needed to learn how to move on. Building a house for a girl is cool, unless she once convinced everyone that you were crazy rather than break up with you a normal way.
Barry from Friends
This guy just couldn't choose. Rachel ran out on their wedding, and it turns out he was cheating on her. Then he tried to get back together with her, but he was already engaged. So he tried to bring Rachel back as a side piece. Yeah, really seems like he learned his lesson.
Mark Wahlberg in Fear
This guy was the ultimate psycho ex-boyfriend. Literally. He got dumped and then went on a killing spree. If you find yourself relating to this guy in any way, at all, drive yourself to the police station and tell them to arrest you.
Bill Campbell from Enough
If your ex has to go learn self defense techniques after they break up with you, then you're acting like a psycho. Stop everything you're doing and just move on. Seriously, once Krav Maga gets involved, the relationship is never getting fixed.
Cameron Diaz in Vanilla Sky
In Vanilla Sky, Cameron Diaz can't handle the fact that Tom Cruise dumped her and moved on. She lures him into her car, and then purposefully crashes the car. You know what else would have gotten his attention? Tons of other stuff that doesn't involve getting killed in a car accident.
Previous
Next
BEGIN