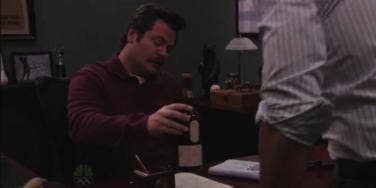 Sometimes, true love isn't with another person. And that's okay.
If you don't know who Nick Offerman is, then you're living your life poorly and you need to fix that. In a world of hipsters, he's bringing manliness back in the best way. He's doing it in a way that makes people that don't agree with him feel to uncomfortable to make eye contact with him. The way things are supposed to be. (Hint: Nick Offerman is a star of Parks And Recreation.)
He released a video yesterday of himself singing a song that he wrote. It was a love song, but it's ok because he was singing it about whiskey. He even loves like a man! It's great! You can watch the video here:
The video got me thinking about love, and often times true love isn't between two people. It's between a person and a thing. That's because a thing is never going to cheat on you, or lie to you, or gain a bunch of weight and get in your face about it. It's just going to keep being that thing, and as long you take care of it, it will always be around. Here are the best human/thing relationships ever!
Gollum and the ring
Gollum and the one ring, blah blah blah. Every single joke about this topic has already been made, but I included this anyway because I like lists to be a certain number long.
Photo: IMDB
Thor and Mjolnir
I can understand why Thor loves his hammer so much. When his hammer, named Mjolnir, is also into him, then he can fly and make tornadoes and stuff. All he has to do is not a jerk to people. That's a great relationship if you ask me.
Photo: IMDB
The Bride and her sword
The Bride's sword wasn't just a tool she was using. It was a special sword. She and that sword had some pretty sweet adventures, like that time that the two of them killed 88 guys in one night.
Photo: IMDB
The Ring girl and her video
This girl doesn't care about anything, ANYTHING, other than her video tape. Someone watches her tape and then she kills them. She doesn't even stop to ask questions or anything like, she just follows the tape. Because of love (or other reasons, I forget the explanation).
Photo: IMDB
Ray Stantz and marshmallows
When asked what to choose the shape of the destroyer, the thing that would kill all life on Earth, Ray Stantz chose marshmallows. If he thought of nothing, nothing would have happened. That's how much he loves marshmallows. With the choice of not dying or dying, he still couldn't help thinking of marshmallows. That's love.
Photo: IMDB
Raphael and his sais
Back in 1990, they made a Ninja Turtles movie that wasn't awful. A big plot point in it was how pissed Raph was when he lost one of his sais. He was so intent on getting it back was that he revealed the existence of the turtles to the foot clan to get it back. It was worth it, because he got his sai back and now he's whole again.
Photo: IMDB
Poison Ivy and her plants
Poison Ivy loves plants so much that she participated in the trainwreck that was Batman and Robin. She was like "can I bring my plants" and they said yes, so she didn't even care about the script.
Photo: IMDB
Jason Voorhees and his machete
Did you know that Jason went into space? Do you know what he brought with him? Yeah, his hockey mask, but it was basically stuck to his decomposing face. He could have dropped his machete at any point, but instead he held on to that thing like it was his baby. It basically is.
Photo: IMDB
Han Solo and the Millenium Falcon
Han Solo keeps his cool, no matter what. The only time he shows any true emotion is when the Falcon isn't working correctly. He's not angry, either. He's like a parent who just saw their child fall down the stairs and land directly on a Lego and then not get up immediately. Only true love can bring on this sort of panic.
Photo: IMDB
Tom Hanks and Wilson
If you watch the scene where Tom Hanks' character loses Wilson in the ocean, and you don't choke up a little bit, then you are a monster. The only people that don't cry at that are psychopaths and Tom Hanks' wife, Rita Wilson, and that's only because he's never shown her the same level of affection.
Photo: IMDB
Previous
Next
BEGIN