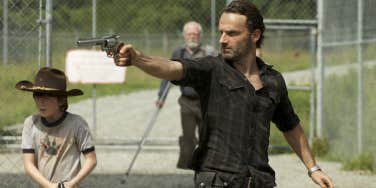 Dating Rick Grimes wouldn't be a picnic, even for brains.
A girl that I'm friends with is a huge fan of The Walking Dead, and she talks about the show constantly. One of her favorite parts in the show is Andrew Lincoln as Rick Grimes. She's even gone as far to say that she wishes she was his girlfriend and that he's the love of her life.
First, Daryl Dixon is better. Second, dating Rick Grimes would be terrible. It wouldn't be worth it to go live in a zombie apocalypse to go date that guy. Rick Grimes is either a complicated guy or the most blank canvas a person can be. His whole personality changes depending on who he's around and what situation he's in.
Sometimes he's a thoughtful caring leader. Other times he's kind of a lunatic. Sometimes he just wants to farm, and then a week later he's biting other dudes to death in the middle of the road. Seriously, you never know what you're going to get with this guy. That's the worst sort of person, especially when it comes to dating. It's like dating multiple people, and you never know which one is going to show up. Of course that sounds horrible, and here's why that's what dating Rick Grimes would be just like that!
Rick Grimes, The Calm Badass
Before the apocalypse, Rick used to be a cop. From what we've seen, he was calm, cool and collected. He also was the sort of person that would never bite another man to death. This is the guy you fall in love with, so hopefully this is the version that you get.
Photo: AMC
Rick Grimes, The Meanderer
Rick went through a period where he just kind of aimlessly wandered around the woods. He want from a calm, collected bad ass to a guy that just wanted to appreciate some trees. Also, just let zombies wander up right behind him.
Photo: AMC
Rick Grimes, The Clean Shaven Cop
This is how Rick started off on the show. Notice how the apocalypse has happened, but he's still wearing his cop uniform, even the hat? This guy has so little personal identity that when the world ends, he still puts on his uniform. Ugh.
Photo: AMC
Rick Grimes, Everybody's Buddy
This Rick just wants to be everybody's friend. He's into meeting new people and finding new places. This guy is lighthearted and fun, just hope he doesn't encounter a biker gang that wants to rape his kid.
Photo: AMC
Rick Grimes, The Weirdly Specific Killer
Here he is, threatening to kill a man with a very specific weapon. There are tons of other weapons around, but there's something about the machete that just does it for Rick. Sure, the violence is scary, but he also comes across a little OCD about the whole thing.
Photo: AMC
Rick Grimes, The Complete Psycho
All of that blood on Rick's face? Yeah, none of that is his. Rick went through a period where he was just a complete psychopath, and he just didn't know how to handle it.
Photo: AMC
Rick Grimes, The Simple Farmer
Farmer Rick. The worst Rick. It doesn't matter what's going on around him, he just wants to talk about how well the carrots are coming in this season. Hey, zombies are climbing over the fence! Hopefully they don't trample the berry bushes he just planted!
Photo: AMC
Rick Grimes, The Devoted Dad
That baby may or may not be Rick's biological kid. Rick also may or may not care about that baby, depending on what day of the week it is. Sometimes, he's super devoted to it, other times he's like "Oh yeah, there's a baby, I totally forgot!"
Photo: AMC
Rick Grimes, The Tactician
Here he is, keeping things cool. Sure, he's going to go kill some people, but he's also keeping his head on his shoulders. This is a Rick with a plan! He might kill people, but he stays calm and only kills people he absolutely has to. That's respectable.
Photo: AMC
Rick Grimes, The Forgetful Father
Hey, see that kid in the background? That's Rick's son, Carl. Notice how Rick is running away, not even caring about how Carl is doing? Yeah, Rick's a good dad until it becomes inconvenient, then he's out the door!
Photo: AMC
Previous
Next
BEGIN