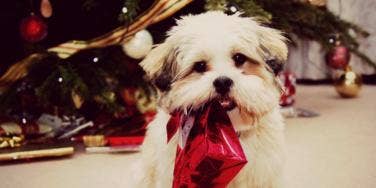 Who doesn't love to spend money left and right on the ones closest to their heart?
It's the most wonderful time of the year! Not because it's the holidays, per se, but because it's time to shop and shop and shop! And, do some of that shopping for the ones you love. Who doesn't love to spend money left and right on the ones closest to their heart?
My greatest love is my 9-year-old Jack Russell, Hubbell. To me, he is the most magnificent creature to have ever lived and my love for him trumps my love for every other living and breathing thing in my life.
Yes, I love that furry mess even more than I love my husband, and maybe even more than I could love any kid I might have—if I were silly enough to do such a thing like procreate. He's brilliant, kind, funny, and even at his stinkiest smells like a dream! Have I mention that he's the most magnificent ever?
As an animal lover in general, I think it's extremely important to spoil your furry (or feathered or scaly) babies just as much as you spoil the human beings in your life. Hubbell has a stocking with his name on it and every Christmas there are just as many gifts under the tree for him, as there are for anyone else in my family, because Hubbell is family and is just as an important part of our family as any of us.
Although I'm still not sure what I'm going to buy the most magnificent creature that has every lived for Christmas, I have put some thought into some ideas for what you might want to consider buying for your beloved pets.
I apologize now that I left out a lot of exotic pets, but, as a dog person, exactly what do you give a snake? A live mouse? Yeah, that wouldn't fly with me; mice deserve gifts, too.
Photo: weheartit.com
1. For Dogs: Sweater To Keep Them Toasty Warm All Winter
A sweater will make your pup both fashionable, along with keeping him super warm. Just pay attention to the style; not even a dog wants to be dressed in some ugly Christmas sweater all season.
Try This One: Boyfriend sweater, $32.99
Photo: We Heart It
11. For Birds: Heated Birdbath
10. Fish: A Fancy Castle
They may be stuck in a fish bowl for their entire life, so letting them live it up like they're royalty is the best thing you can do for your buddy, Flipper.
Try This One: Mini Forgotten Castle, $11.97
Photo: Flickr
9. Cat's Trapeze.
Your cat doesn't have to be pining away for the next open spot in the upcoming Cirque du Soleil show to enjoy the cat's trapeze – it's actually pretty awesome for every feline, even ones without such high inspirations.
Buy This One: The Cat's Trapeze (2 pillow) RED, $79.99
Photo: Tumblr
8. A New Hiding Place
Let's be honest: You're not the most pleasant person at all times, especially after a long day of work. So, why wouldn't you want to give your cat a place to hide from your scowls and f-bombs?
Try This One: New Cat Condos Kitty Cruiser Cat Tunnel, on sale for $14.99
Photo: Tumblr
7. Catnip
My knowledge of cats and catnip is very limited (I'm allergic), but according to my cat owner friends, true love, at least in the cat world, is getting your cat stoned out of its gourd.
Try This: Planet Petco 100% Natural Catnip, on sale for $1.86 - $5.99
Photo: We Heart It
6. For Cats: Scratch Post
A scratch post if great for two reasons: Your cat will love to sink their claws into it and it will keep their claws out of your furniture. I call that a win-win.
Try This One: Whisker City® Scratch Playground, was $24.99 now $19.99
Photo: We Heart It
5. ID Tags Of Love
Perhaps, they can't read, but that's OK. Giving your dog an ID that he'll wear all the time that tells him that he's your main squeeze is pretty much the gift that keeps giving.
Try This One: Antique Soup Bone, $10.50
Photo: Flickr
2. New Bed
In my home, we believe in a dog bed in every room. So, with that thinking in mind, there's no such thing as too many beds.
Try This One: Round Orvis Dog's Nest, was $60 now $49
Photo: We Heart It
12. For Bunnies: A Mirror
True story: Bunnies like mirrors. In addition to their affinity for trying to figure out who that stunning rabbit is across the way, studies have found that mirrors can be beneficial for caged bunnies. And it's like you're giving them a friend you don't have to clean up after!
Try This One: Jerdon Style LED Lighted Makeup Mirror, $40.84
Photo: We Heart It
Previous
Next
BEGIN