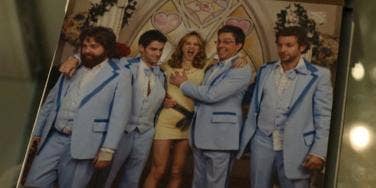 These stars tied the knot way under the radar.
Celebrities do everything bigger and better than us regular folk. Especially parties. They throw lavish parties, because how else will they remind people how rich and important they are? Weddings are essentially just parties focused on two people, so they're combinations of the two things celebs love the most: parties and attention.
Celebrity weddings are usually the biggest parties they throw. Katy Perry rented out pretty much all of India for her wedding to Russell Brand. Maybe if she had focused on her relationship half as much as she focused on throwing a crazy wedding then it wouldn't have ended in divorce, huh? Sometimes, though, celebrities remember that they're human beings and life isn't about proving how much money you can throw away. Some celebs want the focus of their wedding to be friends and family, so they get married in secret. They don't announce it to the media, they just let their closest friends and family know, and then reveal it after the fact. Crazy, right? Here's a list of some of these weirdos who got married in secret!
Angelina Jolie and Brad Pitt
Brad Pitt and Angelina Jolie had already adopted and birthed something like 45 children by the time they got married. They got married and then announced it, and everyone was like "Oh yeah, they weren't already married."
Ryan Reynolds and Blake Lively
No one knew that Ryan Reynolds and Blake Lively were engaged until after they had already gotten married. They met on the set of Green Lantern, and if that movie had done better, they probably wouldn't have been so secretive about the marriage.
Neil Patrick Harris
The star of How I Met Your Mother married his partner David Burtka in secret, and luckily Perez Hilton didn't find out about this secret until after the news was public.
Natalie Portman
Natalie Portman married her husband Benjamin Millepied in a private ceremony in California. it wasn't surprising, because the couple generally keeps their private life private. Also, Natalie Portman is kind of boring and hard to write jokes about.
Kristen Bell and Dax Shepard
Kristen Bell married her husband Dax Shepard in a courthouse in a ceremony that can either be called "secret" or "something the press didn't really care about anyway no matter how hard she tried."
Kelly Clarkson
Kelly Clarkson married Brandon Blackstock in a secret wedding, because she's an independent woman and she can do what she wants, ok?!
Beyonce and Jay Z
It wasn't so much that Jay Z and Beyonce got married in secret, it was just an event that was too exclusive for pretty much anyone to get into.
Ben Affleck and Jennifer Garner
Ben Affleck married his Daredevil costar Jennifer Garner in a secretive ceremony. He was apparently concerned that Jennifer Lopez wouldn't accept that he had found a new Jennifer.
Anne Hathaway
Another actress the secretly tie the knot in California, Anne Hathaway made things official with her boyfriend Adam Shulman without inviting the press.
Scarlett Johannson
Scarlett Johannson got married in secret twice: Once to Ryan Reynolds, then to French journalist Romain Dauriac just after their daughter Rose was born this September. She was probably worried about a bunch of angry/jealous nerds showing and runing the ceremony.
Previous
Next
BEGIN