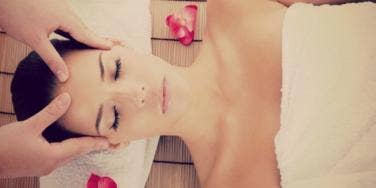 As if you need 7 reasons …
After this holiday weekend, you're probably feeling a little off. Whether you ate too much and feel bloated, or you got a little too comfortable on the couch and now have a huge kink in your neck, your body is most likely craving a little TLC right now.
Before you get stressed about the December holidays and sink back into your daily routine, why not make an appointment with your masseuse?
That neck pain? A massage will relieve it. Bloating? Yep. Back pain? You betcha. A massage (when seeing a professional who knows the proper technique), is the ultimate stress reliever. Sure, sensual bedroom massages feel great too. Who wouldn't want a back rub from their man (or woman) before a night of romance?
But here's the difference: a professional massage is actually like medicine. It's true. A little relaxation goes a long way for the human body!
The health benefits of massage are astounding, but if you're just craving a little relaxation and me-time, look no further than the massage table. And if you STILL need convincing to book a massage ASAP, we've compiled 7 handy reasons in the slideshow below.
Click through it, and let us know what convinced you in the comments!
Photo: WeHeartIt
1. Relaxation. Relaxation. Relaxation.
While the oils and mood lighting can mean something else in the bedroom, they set the tone for a truly relaxing experience when getting a massage. Close your eyes, breathe deeply and feel the tension melt away …
Photo: WeHeartIt
3. PMS? Not Anymore!
One study found that a massage can relieve PMS symptoms like bloating, cramps and mood swings.
Photo: WeHeartIt
4. Deep Sleep Is Calling Your Name!
According to Health magazine, studies show that massage has a positive affect on delta waves (brain waves connected to deep sleep).
Photo: WeHeartIt
7. Put Down The Anti-Aging Cream
Previous
Next
BEGIN