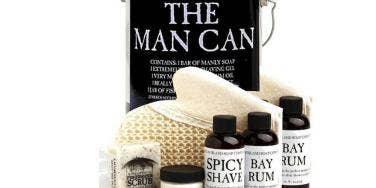 Don't get these gifts for him, even with a sick Cyber Monday discount.
Cyber Monday means it's officially Christmas time, so that means you've got to figure out gifts to get everyone you know, and gifts for him (you know who) can sometimes be tough. It's fun, but it can also be super frustrating. Gifts say something about your relationship with that person, and a bad gift is basically saying, "I don't really know you that well," and that makes Christmas terrible.
These days, there are cheats. If you don't know what to get somebody, just get them a gift card. You can get gift cards to anywhere: restaurants, stores, websites, probably even escorts (for that creepy, lonely uncle you never know what to get). So there's always that to fall back on. You can't get everyone a gift card, though. Like your significant other. You've got to buy them an actual gift. Unfortunately, that's sometimes the hardest person to buy for. If you're a girl, trying to find a gift for your guy, I'm here to help. I don't mean I'm going to tell you what to buy, just what to avoid. So, I'm not really helping. At best, I'm just going to be letting you know that you bought an awful gift.
Anything Stress/Anger Management Related
This is a punching bag meant to fit on top of a desk. This is basically saying "Hey, you have anger issues." Anger issues aren't meant to be cute, so this is the wrong route.
Photo: Amazon
Any Soap/Shower Stuff
Hey, guys don't actually use these "manly" shower products. We just use soap and stuff. Any guy who would appreciate something like this already owns what they want and is also probably the worst sort of person. Don't buy us "manly" soap.
Photo: Amazon
Silly Bathroom Supplies
Look, this sort of toilet paper is silly, sure. But it's also still toilet paper. Don't buy someone toilet paper as a gift. It'll just make them picture you when they end up using this stuff.
Photo: Amazon
Beer Accessories
It is surprising how many beer drinking accessories exist. Here's the thing: putting beer in our bodies is not complicated. We don't need help. If you buy us something like this, we won't use it.
Photo: Amazon
Tool Accessories
The idea behind gifts like this is to say "You're so manly using your tools, here's something to help you do that!" It's a nice idea, but there are a bunch of useless tool accessories out there designed to trick people who don't know how to use tools into buying them. People who use tools already have the ones they want, or will tell you exactly what they want.
Photo: Amazon
Cute Gun Accessories
If you're guy is into guns, then guess what? He doesn't want his gun stuff to be cute. They want to imagine that they're a badass, not adorable.
Photo: Amazon
Best Dad/Husband/Boyfriend Clothes
Anytime you see a man wearing a piece of clothing like this, just know that a big part of him has died and he didn't want to become the person he is now. Just so you know.
Photo: Amazon
Couples Stuff
Girls think that it's adorable to wear matching stuff with their boyfriend/significant other. Guys really don't want to do that. If you love them, don't make them do this.
Photo: Amazon
Weird Electronics
Hey, look, if you're not into gadgets and stuff, that's cool. We won't judge you. Don't pretend to be though. Something like this is just going to end up in the back of a closet, because it probably doesn't even work and was never really meant to work anyway.
Photo: Amazon
Cooking Accessories
These are gloves you're supposed to wear to protect your hands while BBQing. Guys don't like to accessorize when we cook, and buying a gift like this is just going to make us feel embarrassed when you make us wear these.
Photo: Amazon
Previous
Next
BEGIN