Photo: weheartit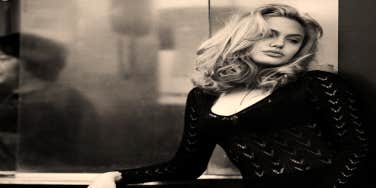 Don't Netflix these steamy flicks with your parents.
There's always going to be a market for the celebrity sex video: It's naked famous people getting "caught in the act" and being, in most cases, genuinely intimate (when they're not adjusting their cameras or trying to find their best angles). Thing is, most celeb sex videos won't make it into wide theatrical releases, and before Paris Hilton made having a sex video a prerequisite to global superstardom, if audiences wanted to see sex onscreen, they'd either have to go to a red light district or attempt to unscramble their cable boxes after 10 PM.
That's probably why some of these movies exist: Movies with plots and storylines so flimsy and pointless that they essentially just serve as frames for sexy scenes in cinema. Whether you enjoy or understand these films in their entirety probably doesn't matter, because all anyone really focuses on in these flicks is the sex. Here are 13 movies that could easily be sold as celebrity sex video titles.
Caligula
Though Caligula stars the fiercest femme around, Dame Helen Mirren, to give an idea of its content: It's the only film ever produced by Penthouse. Caligula is basically an orgy-filled sex video set in ancient Rome and starring actors who deserve better.
Photo: IMDB
Y Tu Mama Tambien
Gael Garcia Bernal and Diego Luna pick up an older woman and become eskimo brothers (and then some). You can try to argue that this is a bromance movie above everything else, but if you really wanted to watch something about a bromance, you'd watch a Judd Apatow movie, not what's basically a bisexual sex video with a threesome.
Photo: IMDB
Nymphomaniac
The movie is called Nymphomaniac. It's made by Lars Von Trier, though, so what's essentially a sex video disguised as art isn't sexy at all ... it's just pretty disturbing, sad and occasionally darkly humorous.
Photo: IMDB
Unfaithful
Cheating is bad. Even cheating with Olivier Martinez, like Diane Lane did in the ultra-sexy Unfaithful. Also, she cheated on Richard Gere, who was the star of American Gigolo. This has all the makings for the most dramatic sex video ever.
Photo: IMDB
The Black Swan
Sure, Natalie Portman won an Oscar for her starring role in The Black Swan, but we can almost guarantee that more people Google "Natalie Portman masturbation scene" and "Natalie Portman Mila Kunis sex scene" than have watched the film in its entirety. As a result, a Natalie Portman sex video may do even better box office numbers than this ballet-themed study of mental illness.
Photo: IMDB
Cruel Intentions
Cruel Intentions has all the makings of a really twisted sex video: Borderline incest, missing parents, virgins, girl-on-girl kissing, a teacher-student affair, death ... Basically, a super-intense sex video or one season of Gossip Girl.
Photo: IMDB
Femme Fatale
Femme Fatale opens with Rebecca Romijn seducing another woman. She goes on to seduce a few others, all for jewels. At best, it's a bad B-movie that may make it onto a late-night cable slot. At worst, it's a glorified sex video of a supermodel who couldn't manage to hold on to movie stardom outside of the X-Men franchise.
Photo: IMDB
Eyes Wide Shut
Apparently Eyes Wide Shut had some sort of plot, but no one quite understands what it is. They just know that it's basically a sex video between then-spouses Nicole Kidman and Tom Cruise, and there are some weirdos in masks.
Photo: IMDB
Original Sin
The closest thing anyone other than Brad Pitt will get to an Angelina Jolie sex video is Original Sin, in which she plays the philandering wife of Antonio Banderas and has a whole lot of sex.
Photo: IMDB
The Toxic Avenger
When I was a kid, my brother and I watched The Toxic Avenger cartoon and had Toxic Avenger coloring books and action figures. As an adult, I saw The Toxic Avenger musical and it was hilarious. So when I was bored while visiting my parents one afternoon and saw that the movie The Toxic Avenger was available on demand, I decided to watch it. Bad move: It was essentially a vintage porn sex video for the first half hour. I had to explain that to my mom. I still don't think she believed me.
Photo: IMDB
Wild Things
Wild Things is the movie your boyfriend or husband got off to before celebrity sex videos were a thing.
Photo: IMDB
Jason's Lyric
Jason's Lyric is basically a softcore sex video starring Jada Pinkett Smith and a bunch of flowers.
Photo: IMDB
Mulholland Drive
Whatever actually happened in Mulholland Drive is pretty baffling, but the one scene everyone likes to talk about is the sex scene between Naomi Watts and Laura Elena Harring, so those two might as well have just made a sex video instead of a full film.
Photo: IMDB
Previous
Next
BEGIN