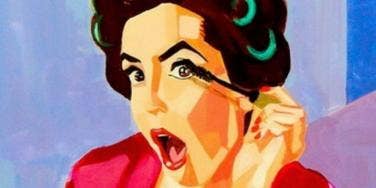 Best part? You can cash in on most of these from the comfort of your couch.
Because saving is beautiful, and nothing can fast-track frown lines like some serious holiday stress, we've rounded up some of the biggest health and beauty deals to hit this Black Friday and Cyber Monday, most of which you can cash in on from the comfort of your couch. It's true—you can save without having to wake up at 5, fist fight for your purchase and wait on a 3-hour line.
Buying for your mom, dad, boyfriend or husband? There's cool products and gift sets for the whole family. If you're shopping for yourself (hey, no judgement) there's a lot to be excited about as well. With awesome deals from Yes To, M.A.C, Sephora and more, you'll save big on shampoo, mascara, body scrub and that perfume you've always wanted.
And, don't think these beauty blowouts are just for women. You guy can get in on some deals, too. Because he needs a little pampering now and then, Anthony is offering customers 30% off all orders Black Friday through Cyber Monday.
Ready, set, shop!
Photo: weheartit.com
Yes To
Yes To
The affordable green beauty brand is hosting a 3-day Black Friday event, offering 40% off purchases Friday and 35% off Saturday and Sunday.
On Cyber Monday, score a gift (including Yes To Grapefruit Facial Scrub, Yes To Grapefruit Wipes; 2-pack, Yes To Carrots Anti Frizz Serum and Yes To Carrots Hand Cream) with any $35 purchase.
The savings will continue into Tuesday with free shipping on all online orders (discounts available through YesToCarrots.com).
Rita Hazan
Rita Hazan
Get a head start on great holiday hair with 25% off all products (including the new at-home treatment Weekly Remedy), plus free shipping on orders over $50, Black Friday through Cyber Monday at RitaHazan.com.
origins.jpg
Origins
Earth-friendly skincare brand Origins (harnessing the power of plants) is all about the gift of choice this season, offering four different avenues to Cyber Monday savings.
In addition to free shipping with any purchase, customers can visit Origins.com for $10 off any $25 order (CYBER1), a full-size Plantscription Cleanser with any $35 order (CYBER2), 5 deluxe samples with any $30 order and a free Make It Big Ginger Soufflé with any $50 purchase (CYBER3) or a free Make a Difference
Rejuvenating Moisturizer, Plantscription Night Cream deluxe samples and bag with any $35 order (CYBER4).
M.A.C
M.A.C
Perhaps in the spirit of a little Black Friday magic, M.A.C is offering customers this Smoky Black Palette (available Friday at MacCosmetics.com) for only $25. Scoop one up while supplies last, as something tells us these babies will fly.
Lorac x Ulta
Lorac x Ulta
Luxe beauty brand Lorac is teaming up with Ulta on two pretty (as in, no wrapping paper required pretty) palette exclusives. Scoop up the Sultry Starlet Shimmer Eye Shadow and Vintage Vixen Matte Eye Shadow Palettes ($12 each) at Ulta stores and Ulta.com this Friday, then make a trip back (online only) for the Champagne Dreams Eye Shadow Palette, $15.
Indie Lee
Indie Lee
Whether you're in need of a secret weapon for holiday stress, or are wondering what to buy the woman, man, Secret Santa (and especially, the pop-up guest) who has it all, we suggest stocking up on some of these universal (and eco-friendly) offerings from Indie Lee.
Thanksgiving Day through Cyber Monday, receive a sample size trio (including the CoQ-10 Toner,Squalane Facial Oil and Lavender Chamomile Moisturizing Oil) as a special gift with purchase $65 purchase on IndieLee.com.
On Cyber Monday, score 25% off all of Indie Lee's all-natural body products including the must-have moisturizing body oils and body lotions, as well as the Hydrating Body Balm and Lemongrass Citrus Body Wash, at IndieLee.com/Shop/Body with code CYBERINDIE.
Bliss
Bliss
Bliss is another one of our brand favorites when it comes to universal gifts with the power to make anyone feel like a million bucks. This Monday, the brand will offer an additional 40% off already value-priced pro-sized pump bottles of its best-selling formulas, including Lemon + Sage Body Butter, Shampoo and Conditioning Rinse, at BlissWorld.com.
Sephora
Sephora
Sephora's highly-anticipated $10 beauty menu will return this season and, this time around, the brand is rewarding its Snapchat followers with sneak peeks. If you haven't been following along, you can catch up via their Instagram account starting Nov. 26.
Some of the items that have already been spotlighted include a Tocca Perfume and Lotion Gift Set, Kat Von D Lipstick and Gloss Duo and a Josie Maran Argan Hand Sealers Set, all available in Sephora stores and at Sephora.com beginning Friday.
Anthony
Anthony
Because women aren't the only ones who need a little pampering now and then, Anthony is offering customers 30% off all orders at Anthony.com Black Friday through Cyber Monday (no code needed).
May we suggest The Perfect Shave Kit for the most kissable man on your list?
Ahava
Ahava
Be the person behind someone's aha-va! moment (that being when your giftee realizes she doesn't have to shell out big bucks for the spa treatment) with the luxe body products at Ahava.com, on sale for 35% off Black Friday (BFRIDAY14) and Cyber Monday (CYBRMON35), complete with a free Triple Size Mineral Body Lotion.
Urban Decay
Urban Decay
If you have a bold beauty maven on your list (maybe it's you), be sure to visit UrbanDecay.com this Friday for a limited-edition $30 combo pack including the Urban Decay Ammo Palette, Smoked Palette and a deluxe sample of Perversion Mascara.
Return Cyber Monday to scoop up The Electric Palette for only $35, complete with a bonus deluxe sample of the brand's 34/7 Velvet Glide-On Eye Pencil in Black Velvet.
Customers who make a purchase on UrbanDecay.com either day will receive shipping on all orders and a mystery gift card ranging from $10 to a grand prize trip to Orange County.
Laura Geller
Laura Geller
Laura Geller (home of the game-changing Spackle), is known for fuss-free makeup that always translates into fabulous.
This Monday, visit LauraGeller.com for free standard shipping on all orders over $50. Plus, receive a free 3-piece Laura Geller Beauty Essentials gift with $40 purchase, including a Travel Size Blush-n-Brighten in Boysenberry, Mini Champagne Spackle and Mini Blush Brush (CYBERGWP).
Previous
Next
BEGIN