Photo: Photo: weheartit.com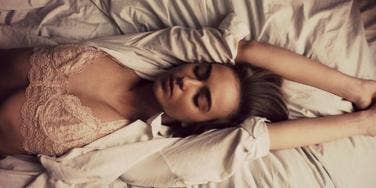 The expert guide to upping your bra game.
Whether reserved for that someone special or peeking through (or around) your sheer/cutout/off-the-shoulder tee, many of today's bras were made to be seen. Factor in the accessibility, variety and convenience that comes with online shopping and it's never been easier to find your match made in bra heaven (especially for your boobs).
Considering the lack of dressing rooms and fitting experts in your digital checkout, however, it's also never been easier to get it wrong. To save you from your next tunnel vision purchase (in which one ignores her body shape or breast size in the name of the latest trend), we tapped LiviRae Lingerie co-owners Cynthia Decker and Molly Hopkins.
Behold, the experts with a collective 25+ years of bra fitting and a tagline that reads "No Bust Too Big or Small, We Fit 'Em All" offer their secrets for scoping out your sexiest and most supportive style.
You're only a few tips away from your best boobs yet.
1. If You're Straight Up And Down
If you're straight up and down, look for styles that are more wide set. The key is finding a style that properly compliments your shape.
"We suggest a bra with interchangeable straps to make sure you have the ability to adjust," says Cynthia.
Game-Changing Pick: Lily of France Sensational Lace Convertible Demi Bra, $36
2. If You're Pear
To create more symmetry with your top and bottom, don't be afraid to give yourself a little push (up).
"Women who are pear shaped tend to be smaller in the bust, but that's okay! We suggest a bra that has a bit of padding to help you flaunt what you have and even you out!," says Cynthia.
Game-Changing Pick: Victoria's Secret Ring Strappy Back Push-Up Bra, $55-$62
3. If You're Small
If you're on the smaller side, opt for a molded style with a thicker-lined cup to create a more rounded, fuller shape.
"Women who are on the smaller side often struggle to find sizes and styles that work for them, similar to women who are extremely well endowed. The best way to work with a smaller bust is to find a style that provides comfort and gives you the shape and look you are going for," says Molly.
Game-Changing Pick: Affinitas Molded Demi, $32
4. If You're Curvy
The trick to finding a bra that's supportive and sassy? Even distribution.
"Many women think that a supportive bra cannot be sexy but that is not the case! We suggest the seam structure as a sexy option that still provides the support and coverage a curvy girl might need. This style also comes in [bright] colors to keep it fun!," says Molly.
Game-Changing Pick: Goddess Full Cup Bra, $44
5. If You're Busty
Top-heavy? Cynthia says to look for a three-part cup, in which a vertical seam and horizontal meet in the shape of a T to create a more rounded look, for the "ultimate lock and load".
She also warns not to go too big on the bands. "Busty women need additional support. Often times, women who are busty have a narrow back and have difficulty finding bras that fit. Most stores do not carry sizes above a DDD, so they go up in the band to compensate for the cup size. Thes olution is to find a company (like LiviRae Lingerie) that fits by the UK size chart. It is there that you will find a bra that suits your needs!"
Game-Changing Pick: Freya Patsy Plunge Balcony Bra, $58
6. If You're Athletic
If you have a more athletic build, Molly suggests scooping up a cute cotton style that is breathable and easy to move around in – and trying to think beyond the beloved sports bra. "We also suggest something comfortable like a bralette, or even a moveable t-shirt bra."
Game-Changing Pick: Calvin Klein Perfectly Fit Triangle Bra, $42
Bonus Tip: While Cynthia points out that most women have a slight amount of uneven breast tissue, there are some cases in which it's more noticeable than others.
If this applies to you, "pull the wire over further on the less-full side to pull the maximum amount of breast tissue into that cup. The bra might feel slightly uneven, but this will create symmetry of your bust without changing the style or looking into something custom."
Previous
Next
BEGIN