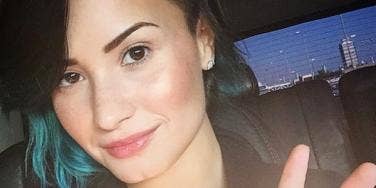 Friendship fallouts and breakups suck it. Even when you are a celeb.
Friendship fallouts and breakups sometimes hurt more than romantic ones. Your besties are the ones who love you and stick with you through thick and thin ... even in the celeb world. Demi Lovato is no stranger to friendship fallouts, having drifted apart from former BFFs Miley Cyrus and Selena Gomez.
Lovato was recently grilled about the status of her relationship with that hellion Mi Cy, and she artfully sidestepped the question, basically calling them "acquaintances" and noting that they have nothing in common anymore. You can read deeper into it and speculate why they no longer share a common and unifying ground, but it's sorta futile.
That scenario is not, well, uncommon! Lots of friends grow apart as their interests and their lives change, and they move into different phases and stations of life as they know it.
While Cyrus had vehemently defended and supported Lovato on Twitter during the singer's rehab and recovery phases, Twitter does not a BFF-ship make. The ladies have embarked on very different paths and have not stayed friends in name only.
Lovato and Gomez were also close, but earlier this year, the former unfollowed the latter on social media, seemingly dissing Sel in the process, indicating that she was sick of the drama and moving on. She never named names, but did she need to?
Again, all of this is fairly common. Lots of celeb friends fall out and their relationships fail epically and spectacularly. Or they just grow the hell up and apart. Here are 10 celeb friendship fallouts in recent times.
Gwyneth Paltrow and Madonna
1. Gwyneth Paltrow + Madonna: These two faux British accent users were BFFs for a while but reportedly had some sort of falling out. Gwynnie moved on to BFFing with Beyonce and Jay Z, since The Hova has worked with Paltrow's uncoupled ex Chris Martin of Coldplay.
Photo: IMDB
Paris Hilton and Nicole Richie
9. Paris Hilton + Nicole Richie: Do you remember The Simple Life? You know you do! These rich and blonde besties starred on their own reality show and reached major, pre-Kardashian levels of famous-for-being-famous fame. They fell out, with neither really admitting what happened, other than P. Hilt saying that Richie knew what she did. We miss those Simple days.
Photo: IMDB
Taylor Swift and Selena Gomez
8. Taylor Swift + Selena Gomez: They are besties still, but they have had their rumored issues that have to do with SelGo's on-off ex Justin Bieber. Swift allegedly does not approve of Jelena and as a result, she and Gomez have had some rocky, social media unfollowing patches.
Photo: IMDB
Demi Lovato and Selena Gomez
7. Demi Lovato + Selena Gomez: After Gomez attended a rehab sesh to help support Lovato, all seemed fine. But then Lovato unfollowed Gomez in the social media space and even issued a cryptic, shade-tossing, "Bye b----h" tweet that the entire gossip world belived was aimed at Gomez and her drama-filled life. They haven't really been seen together since. Sigh.
Photo: IMDB
Demi Lovato and Miley Cyrus
6. Demi Lovato + Miley Cyrus: The former Disney divas were friends but Lovato has recently intimated that they have nothing in common and that they aren't more than acquaintenances. It happens.
Photo: IMDB
Kendall Jenner, Kylie Jenner and Selena Gomez
5. The Jenner Sisters + Selena Gomez: After a weekend of fun hangs at Coachella earlier this year, Gomez unfollowed Kendall and Kylie Jenner on social media and distanced herself from these satellite Kardashians. Apparently, there are some issues with their friendships with Sel's ex Justin Bieber and how they conduct themselves. But honestly, with Sel, it always comes down to the Biebs.
Photo: IMDB
Heidi Montag and Lauren Conrad
4. Heidi Montag + Lauren Conrad: Pre-10 surgeries in a day, Montag was BFFs with LC. They had an epic breakdown, complete with black mascara tears (Conrad's) and lots of The Hills nonsense. They never recovered. The cameras — they'll get ya every time.
Photo: IMDB
Justin Bieber and Taylor Swift
3. Justin Bieber + Taylor Swift: They worked on tunes. He Punk'ed her. Then she stuck out her tongue when her bestie Selena Gomez hugged him backstage at the 2013 Billboard Music Awards, and cameras caught it and splashed it all over the media. Her simple tongue out gesture, one that Miley Cyrus uses all the time, clearly indicated T. Swizzle's dislike, distaste and disgust for all things Bieber.
Photo: IMDB
Rihanna and Katy Perry
2. Rihanna + Katy Perry: There were rumors that the ladies fell out when RiRi rih-united with Chris Brown. Perry allegedly did not approve of the rebooted relationship, which petered out as quickly as it restarted. These lovely ladies haven't been seen hanging out and bro'ing like they used to, leading us to wonder if the rumors of strain and tension are real. Oh, and remember, RiRi skipped Perry's 2010 nuptials to Russell Brand to finish some work on an album. Friends don't do that, since they can jetset. RiRi could have chartered a private plane to the wedding in India and have been back to work the next morning.
Photo: IMDB
Jennette McCurdy and Ariana Grande
10. Jennette McCurdy + Ariana Grande: These two besties starred on the successful Sam & Cat series on Nickelodeon. They reportedly fell out over salaries and Grande's increasing fame in the music world and her diva-like behavior, with McCurdy throwing all sorts of online shade. The show has since been canceled.
Photo: IMDB
Previous
Next
BEGIN