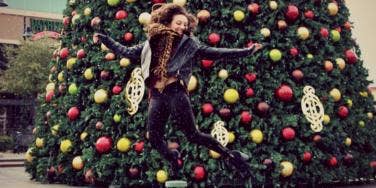 From an amazing tea detox to breathing techniques, these stress relief tricks actually work!
Even though the holiday season is known for being a joyous time of year, there is no question that it can also be incredibly stressful. Between the nagging sense that there's always one more thing to do, dealing with exams, tense family moments, last minute shopping trips and budget constraints, I have no qualms admitting that the anxiety that comes with the holidays can be downright painful. The question I'm left with is that with all this stress, how can someone just take a second to calm down and enjoy the moment?
So I sat down with our Life Coach Debra Smouse to talk about how she navigates the holidays. She shared that we sometimes get so caught up in everything that's happening around us that we forget to stop and take a breather. Finding a way to appreciate the good moments is necessary if we are to actually enjoy the good stuff that's right in front of us. And while it may not come as a surprise that being stressed can have a major impact on how you feel and your overall happiness, what people don't often realize is that it can also have a negative effect on your body. Seriously. We tend to forget that everything is connected.
Lucky for you, we've got the perfect remedy when faced with the dreaded holiday stress-monster. It'll walk you through the steps to clearing all of the clutter in your life to help you focus on what's really important. Here's what Debra and YourTango are loving when it comes to having the most chill holiday season ever.
Photo: Weheartit
1. Drink Rooibos Tea.
Not only is rooibos tea great for indigestion and heartburn, it really works wonder as a stress reliever and acts as the perfect detox!
Photo: Weheartit
2. Try Meditation Candles.
Take a time out during your busy day to really relax.
Photo: Weheartit
3. Write A Priority List, Not A To-Do List.
Instead of freaking out over all of the things you need to get done, try to organize your list in order from what is the top priority/needs to be done right this moment to what can wait for a little while.
Photo: Weheartit
4. Practice Fire Breaths.
Also known as Bellows breathing, this technique stems from an ancient yoga move originating from India. According to Your Skillful Means, "it calms the mind and stimulates the body, increasing oxygen and decreasing carbon dioxide in the blood. It is excellent to do before meditation."
Photo: Weheartit
5. Cut Back On Caffeine.
That doesn't mean that you have to give it up completely. Limiting yourself to drinking caffeine before noon can make a major difference in your mood (not to mention it'll make you feel less weighed down).
Photo: Weheartit
6. Organize Your Space
Feeling overwhelmed can be a mental and physical thing. Even though this may sound strange, decluttering your space will actually make it that much easier for you to clear your mind.
Photo: Weheartit
7. '30 Days To Clarity' Courses
If you've felt like a life without stress and anxiety was out of reach, these four courses on ways to become a happier and healthier you will show you why that couldn't be further from the truth! At the end of the day, you are the only one who is in control of your life; 30 Days to Clarity will help get you there.
Photo: Weheartit
Previous
Next
BEGIN