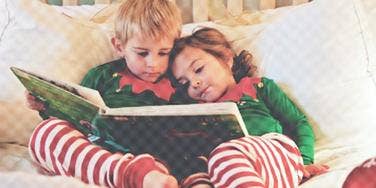 Snow days for them doesn't have to mean stress for you.
What books did you love as a kid? The ones that you read over and over, or wanted to have read to you, until their spines were falling apart and the covers looked about ready to collapse from exhaustion. As a parent, it can be easy to inspire the same love in your child by getting more in-tune with the kind of books they like and either reading to them or reading along with them. What's really special about it is seeing how excited your kids get when they see how interested you are in the book they're really into at the moment.
That's the idea behind Penguin Random House's new site, Brightly, a new resource to help moms and dads foster a love of reading in their children and grow lifelong readers. They're providing inspiration like book lists, reading tips, and ideas to make reading fun.
To get you started, we've created a reading list for when your family is cooped up inside this winter. We've included books for a wide age range and for all tastes that are sure to create lasting bonds and memories. Start making your way through this list and see what strikes a chord between you and your children.
You can help Brightly understand what matters to you and your family when it comes to reading by taking their survey. You'll also be entered to win a copy of The Book with No Pictures, by B.J. Novak. Brightly also provides more information on reading with your child, book lists, how to start a family book club and more on their website.
Image via WeHeartIt
The Dark
For kids afraid of the dark: A story about Laszlo, who''s afraid of the dark, is a universal story about conquering fear. This book is a good opener to a conversation with a child who might have some anxiety to show them how to be courageous and more open. Ages 3-6.
Image source: Goodreads
Fraidyzoo
For creative kids: To help combat her fear of the zoo, Little T's family dress up as animals using homemade costumes in a silly but poignant story that encourages creativity. A great book to read and then subsequently re-enact with kids who are crafty and imaginative. Ages 4-8.
Image source: LA Times
Niño Wrestles the World
Nino Wrestles The World, Yuyi Morales
For energetic adventurers: A spunky little story about young nacho libre wrestler Nacho who takes on any competitor who dares to cross his path. This book errs on the younger side, but it's an adorable read for kids who just can't sit still. Ages 4-8.
Image source: Macmillan
The Book With No Pictures
The Book With No Pictures, B.J. Novak
For parents and kids who just like being silly: B.J. Novak sets out to definitely prove that books without pictures or illustrations are anything but boring and serious. Every word, whether it be BLORK or BLAGGITY BLAGGITY, is meant to be read and illicit nothing but laughter from the readers. Ages 5-8.
Image source: Emertainment Monthly
The Most Surprised I've Ever Been
The Most Surprised I've Ever Been, Jenny Slate & Dean Fleischer-Camp
For future absurd comics: Based on the short film, Marcel The Shell With Shoes On relays the story of the most surprised he's ever been on the day when he was launched into the air. Marcel is an amazingly funny and absurd character that shows you can accept yourself, warts and all. Ages 5-8.
Image source: Amazon
House of Robots
House of Robots, James Patterson
For young inventors: When Sammy's mom insists he brings her newest invention, a robot called Error, to his fifth grade class, Sammy struggles to fit in and show that it's hip to be square. House of Robots comes from the author of the Alex Cross books, so you won't find yourself struggling to join in on this fun read. Ages 8-12.
Image source: jamespattersonbooklist.com
Doll Bones
For kids who love fantasy: Zach, Poppy and Alice are thrown into an adventure to lay the magical Queen of their childhood fantasy world to rest. If your child lives in their own fantasy world and has a vivid imagination, this book is for them. Ages 10-14.
Image source: Goodreads
Atlantia
For fairytale enthusiasts: A crooked take on fairytales, this YA read centers on Alantia, an underwater city that is home to two sisters, one of which is about to make a dangerous decision. This is a great tale from the author of Matched that's perfect for younger readers who love the world of fantasy and fairytales. Ages 12+.
Image source: Goodreads
White Space
For brainy tween writers: When Emma Lindsay writes a short story that's an unmistakable missing chapter of an unseen manuscript from a long-dead author, she realizes her reality is blurring rapidly with those around her. A formidable YA thriller, Blick's book will strike a chord with voracious tween readers. Ages 14+.
Image source: Goodreads
I'll Give You The Sun
I'll Give You The Sun, Jandy Nelson
For burgeoning deep-thinkers: Twins Jude and Noah have grown apart as they have grown up, each telling their own broken story as they start to realize they only have a complete story together. For kids and tweens that are showing an interest in introspection, this book has a little more meat on it than most YA fare. Ages 14-17.
Image source: Goodreads
Previous
Next
BEGIN