Photo: Getty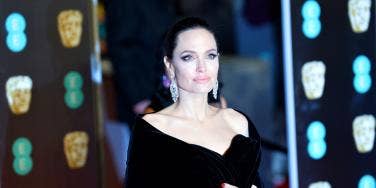 How do we love Angelina Jolie? Let us count the ways...
Angelina Jolie, who was a wild child that seemed to relish the spotlight and who did weird or unusual things (blood vial necklaces, a Billy Bob tattoo, lesbian affairs, making out with her brother — to name a few) to capture attention, has seemingly confirmed that she will retire from acting in favor of her directing career. The Oscar winner, who nabbed a Best Supporting Actress statuette for Girl, Interrupted, has been promoting her latest directorial effort Unbroken, and has said that she absolutely plans a permanent shift from in front of the camera to behind it and for reasons that seem at odds with her earliest public image.
"I've never been comfortable as an actor; I've never loved being in front of the camera," Mrs. Brad Pitt, a mother of six, said about her decision to direct instead of act. That's a shocker, since Angie seemed to bloom amidst all of the attention when she was a young, sex-savvy and reckless hellion. Now with a brood of kids, she is more tame and less willing to shock her adoring public.
Jolie also said, "I didn't ever think I could direct, but I hope I'm able to have a career at it because I'm much happier."
If she's happy, we're happy. And that means Brad's happy. And the Jolie-Pitt brood of six is happy. We love a girl who knows what she wants and goes after it. It's what we call sexy!
Angie is a rebel and she is anti-Hollywood. That's why we are glued to her every movie. Here are 13 reasons we love the sexy Angelina Jolie.
Angelina Jolie is the ultimate girl crush.
1. It's so easy to girl crush on her, from her fierceness to her fearlessness to her beauty.
Photo: IMDB
Angelina Jolie is versatile.
12. She has been fearless with her film choices. She sobbed on the floor as misunderstood malcontent in Girl, Interrupted and she was evil to her own daughter Vivienne while playing the titular character in Maleficent.
Photo: IMDB
Angelina Jolie can wear anything.
11. She looks really good in unforgiving fabrics, be it leather or latex. Or horns.
Photo: IMDB
Angelina Jolie doesn't play the Hollywood game.
10. She doesn't work with a publicist or a media team to manage her image. She does it herself.
Photo: IMDB
Angelina Jolie isn't afraid to be human.
9. She is imperfect. We've seen the Jolie-Pitt brood eating Cheetos.
Photo: IMDB
Angelina Jolie really can do it all and have it all.
8. She's superwoman and proves you can have it all in terms of family, career and love.
Photo: IMDB
Angelina Jolie has a smoldering stare.
7. Ever see her slammin' smoky eye makeup in Wanted? It's amazing and surprisingly easy to copy so get to it.
Photo: IMDB
Angelina Jolie loves freely.
6. She loves who she loves, from husband Brad Pitt to former same-sex partner, model Jenny Shimizu.
Photo: IMDB
Angelina Jolie can kick your ass.
5. She is a total badass who reminds us that wearing all black is a totally viable and non-goth fashion option.
Photo: IMDB
Angelina Jolie made important strives in women's health.
4. She went public with her double mastectomy in the right way and for the right reasons.
Photo: IMDB
Angelina Jolie is friends with her exes.
3. Even though she is happily domesticated with Pitt, Brad, she still wrote the foreword to her ex-hubby Billy Bob Thornton's memoir.
Photo: IMDB
Angelina Jolie rocks her ink proudly.
2. Her tattoos! She proved that gorgeous, elegant women can be inked heavily and that they don't have to hide it, either.
Photo: IMDB
Angelina Jolie's lips!
13. Did we mention those lips? Those pillowy, perfect, pouty and cloud-like lips?
Photo: IMDB
Previous
Next
BEGIN