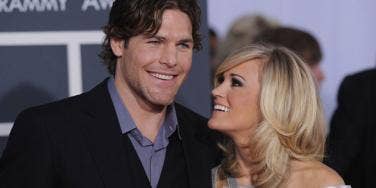 Don't hate the player, hate the game. These celebs will choose sports stars over movie stars any day
Congratulations are in order to Erika Christensen and cyclist Cole Maness—Us Weekly confirmed their engagement this past weekend. The couple has been dating for a while, although you may not have realized it because they keep their relationship relatively quiet.
Erika definitely isn't the only celebrity to fall for a famous athlete—many stars choose to date athletes over actors, and it's not really hard to see why. Athletes are in amazing shape, they're dedicated and passionate, and they're obviously not hard on the eyes (understatment of the year). It almost makes you wonder why every A-Lister out there doesn't have an athlete on his or her arm.
While the list of celebrities dating sports stars is quite long, there are a few stars who seem to make quite a habit out of it.
Check out our list of 10 celebrities who have dated (or have at least been rumored to date) multiple athletes. Get it, ladies!
9. Kim Kardashian
Kim Kardashian was almost solely dating athletes until her marriage to Kanye West earlier this year.
First, she dated NFL running back Reggie Bush from 2007 until 2010. Once that was over, she supposedly had a fling going on with footballer Cristiano Ronaldo.
She briefly dated Cowboys wide receiver Miles Austin, and then spent about five minutes married to Nets forward Kris Humpheries.
If Kim and Kanye weren't so compatible, it would be shocking that they even ended up together.
Photo: IMDB
8. Khloe Kardashian
Khloe Kardashian and Lamar Odom's relationship was definitely no secret — the two kept their marriage very open to the public in Keeping Up With The Kardashians and Khloe and Lamar.
They sadly announced their divorce earlier this year, and although Khloe is currently linked to rapper French Montana, she was been with other athletes besides Lamar.
Khloe was rumored to have dated football player Derrick Ward at one point, and earlier this year she was with Dodgers outfielder Matt Kemp.
Photo: WeHeartIt
6. Jessica Simpson
Jessica Simpson is currently married to football player Eric Johnson, and they have two really, really cute kids together.
Before settling down with Eric, she was famously dating football player Tony Romo, and before that she was linked to skateboarder Bam Margera.
Photo: Instagram
5. Hayden Panettiere
Hayden Panettiere is currently engaged to professional boxer Wladimir Klitschoko — and they're actually expecting a baby!
Before she got together with him, she was dating football player Scotty McKnight, and has said she "loves dating athletes."
Photo: Twitter
4. Gabrielle Union
Gabrielle Union recently married basketball player Dwayne Wade, but she dated a few athletes before setting down with him.
In 2001 until 2006, she was with football running back Chris Howard. In 2006 until 2007, she dated football safety Darren Sharper.
Photo: IMDB
3. Eliza Dushku
Eliza Dushku recently ended her five-year relationship with former basketball player Rick Fox.
Before that, she dated baseball player Brad Penny.
Photo: IMDB
2. Carrie Underwood
Carrie Underwood is married to ice hockey player Mike Fisher, and right now they're expecting a baby boy!
Before marrying Mike, she was dating football player Tony Romo (who obviously has a type).
Photo: WeHeartIt
10. Kristin Cavallari
Former Hills star Kristin Cavallari is currently married to football player Jay Cutler, and the pair have two adorable kids together.
Before she married Jay, Kristin was also linked to football quarterback Matt Leinart and soccer player Miguel Medina.
Photo: Instagram
Previous
Next
BEGIN