Photo: weheartit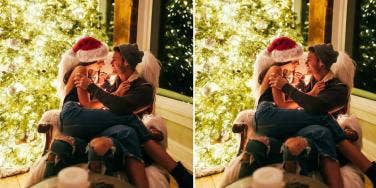 The holidays are a pretty confusing time for any couple who have just started seeing each other.
There's something about the holiday season that can either make or break a new relationship. It's a magical time with love in the air but there are also a lot of expectations.
---
---
Maybe it's the panic of trying to figure out what kind of present you should buy each other (or are you even at a present-giving level yet? You don't know!), the stress of having to meet each other's families for the first time, or the overwhelming feeling of love in the air that reminds both of you that you two aren't quite there just yet.
Whatever the reason, we can say without a doubt that holidays with a new boyfriend​ can be a pretty confusing time, especially for any couple who have just started seeing each other.
There aren't any guidelines or rulebook to show what you should do or how you should act. (Ugh wouldn't that be helpful sometimes?) It really depends on who you are with and how you are as a couple. Each couple has unique ins and outs that would work for them.
But just because the season is looming closer each day doesn't mean that things have to get tense with your new boo. In fact, this might be the perfect opportunity to make things a little bit more romantic. Working through any potentially awkward situations could bring you two even closer together in the long run.
---
---
There are ways to get through the more uncomfortable parts of the holiday season (like when your mom won't stop asking if he's coming for dinner, and you have no idea how to bring it up to him). Trust me, this is something that comes up more frequently than you think.
The best way to get through any of these possible awkward situations is communication. You have to be as straightforward as you can.
But how do you communicate it all? Sometimes having these kinds of conversations can seem like a lot for the beginning of the relationship. You're not sure what would maybe be too much. It's a fine line but it doesn't have to be that scary! Sometimes, just having a little guidance in this whole dating thing can go a whole long way.
If you're not sure how to act to keep the awkwardness away during the holidays with a new boyfriend, these tips will help keep your relationship intact and happy — even in the most cringe-worthy situations.
---
---
1. Don't push him into anything he's not comfortable with.
If you two just made things official a few weeks ago, the holidays might not be the best time to introduce him to your parents, let alone your entire extended family. If he feels uncomfortable doing Christmas dinner with a bunch of people he's trying to impress, let him off the hook and wait for a more appropriate time to introduce him to everyone.
2. Clear up the gift-giving issue.
If you're confused about whether or not you guys are buying each other something, just ask! Don't assume he's not going to get you a gift, because if he does and you don't have anything for him, you're going to feel really bad.
And if you're not sure what's appropriate to spend, bring that into the conversation also. It's better to come to an agreement together than to just wing it on your own.
3. Get his parents gifts, but only if it feels appropriate.
If you two just started dating, you haven't met them yet, and you're not going to be spending the holidays together, you probably don't have to get his parents anything.
But if you've met them even one or two times, you should buy them a little something. It could be as simple as a nice bottle of wine or a pretty bouquet of flowers. The point is, it will win you major points and show that you're thinking of them.
4. Don't put too much pressure on the relationship.
Everything seems extra romantic around the holidays, but don't assume that means you have to switch into overdrive. If you guys have been taking things slow, continue doing that. Extra pressure during this time of the year could be just a little too overwhelming.
5. Keep nosey relatives out of your personal life.
Come up with a standard answer to give when they ask about your love life. And don't feel like you have to over-share!
6. Manage your expectations about gifts.
You can't really expect your new boyfriend to get you the perfect present if you just started dating recently — he doesn't know you well enough. You don't have to pretend you love something that actually isn't your style at all, but appreciate the thought instead of the actual gift itself.
7. Relax and be friendly when attending parties with him.
Besides family gatherings, the holidays usually also means parties with co-workers and friends. If he asks you to come along as his plus one, don't be nervous to meet the people in his life.
Just be friendly and be yourself... and avoid too much wine. You don't really want to be the girl everyone talks about for weeks afterwards.
8. Find out if your parents plan on buying him a gift.
If they are, make sure to let him know so that you can both avoid any potentially awkward moments and he can get something for them.
9. Bring something if you plan on being with his family.
If you do decide to do a dinner or dessert with his family, you can win major cool points and show that you're respectful by pitching in. Offer to bring a dish or a bottle of wine. When you're there, help his mom set the table and clean up without asking.
10. Don't feel bad if you decide to spend the holidays apart.
If you guys are really new, there's nothing wrong with doing your own thing with your own families. Make things extra special by setting aside time for just you two at some point — then you can make things romantic with a sweet dinner and gift-giving date.
Previous
Next
BEGIN