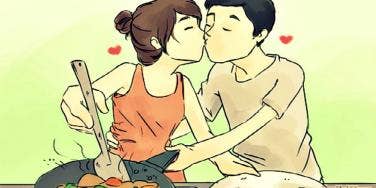 Wait till you feast your eyes on the pumpkin pie smoothie.
Now that Thanksgiving is right around the corner, it's time that we finally get to the most exciting part: Figuring out ways that you and your partner can make it a special one. If this is your first time spending the holidays together, knowing how to whip up healthy recipes is just half of the fun.
This may sound far-fetched but testing out different foods and drink blends (alcoholic if you want to get a little fancy) can be a really exciting thing to do as a couple. If you find your nerves getting the best of you, just remember that your plans could have been a lot different: Instead of getting ready for the perfect night with your love, you could be gearing up to face an overly crowded holiday gathering.
If we're being totally honest, one of the hidden perks of going the 'table for two' route is getting to dodge that awkward inquisition about your love life from his family—or worse, yours. Trying to avoid eye contact with your mother and evade uncomfortable questions is pretty much like the Hunger Games—there's practically no way out.
Yes, celebrating together can seem daunting at first and add a lot of pressure on the night but that's what makes it even more special. How could you really resist bringing your relationship to the next level by spending the day together? So stop thinking about the million ways that this intimate dinner with your S.O. can go wrong and focus on how cooking for two can go right.
After busting out these healthy and delicious dinner, drink and dessert recipes, the odds will definitely be in your favor.
Photo: Weheartit
1. Cranberry Orange Spritzers
This zesty cranberry orange spritzer recipe is the pefect way to start the night off together!
Get the recipe here.
2. Spaghetti Spinach Gratin
When it comes to Thanksgiving dinner, you can never have too much squash, spaghetti or kale.
Get the recipe here.
3. Mini Carrot Cake
This scrumptous mini carrot cake recipe has all of the flavor with none of the guilt. Prepare for jaws to drop.
Get the recipe here.
4. White Sangria Sparklers
As far as recipes for couples go, this white sangria sparkler is the tastiest contender yet.
Get the recipe here.
5. Butternut Squash, Brussels Sprout & Bread Stuffing (w/ Apples)
This hearty recipe is not only packed with nutrients, it's also incredibly filling.
Get the recipe here.
6. Dairy-Free Pumpkin Ice Cream
Vegans will get a kick out of this dairy-free recipe.
Get the recipe here.
7. Skinny Pumpkin Pie Smoothie
Check out this delicious (and totally healthy) pumpkin pie recipe. The best part is that it doubles as a dessert!
Get the recipe here.
8. Cauliflower Mashed Potatoes
This is the perfect alternative to the typically heavy mashed potatoes recipe and will definitely be a hit with your love.
Get the recipe here.
Previous
Next
BEGIN