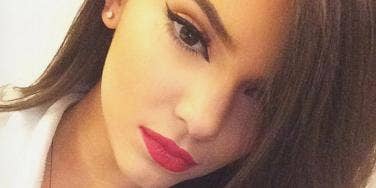 Kendall Jenner is the new face of Estee Lauder. She is the perfect Kardashian for the job.
Kendall Jenner, the pentultimate fruit of Kris Jenner's womb, has a new gig! The model we (almost) all love has been named the new face of iconic American cosmetics brand Estee Lauder. Yes, the brand, formerly repped by Oscar winner Gwyneth Paltrow, is a classic, and before you go scoffing at an American department store institution slumming it with a reality show star who has done little to advance high culture as its face, chillax.
It's actually quite wise for the House of Lauder to partner up with a young, American model like Kendall Jenner, who has a huge social media presence and can bring an injection of youth and interest among the youth to a long-standing brand.
Consider it a millennial "youthquake" or a youth infusion. People care about the Kardashian family, nuclear and extended, for a variety of reasons, and Lauder can capitalize, or "kapitalize," on that.
Jenner is quite pretty with delicate features and she has staked her claim as a model, walking runways for Chanel and Marc Jacobs, bleaching her brows, showing her headlights and upstaging her older sisters. She nabbed a Teen Vogue cover and is using her first name as a mononym, like Beyonce or Madonna. Sure, her pre-existent fame gives her an advantage over someone without it, but it is also the reason she works that much harder.
While her big sis Kim broke the Internet last week with her oiled butt and her full-frontal modeling for Paper, here's 13 reasons why Kendall Jenner is a better choice as a model and why she is the Kardashian with the brightest future as a model.
Kendall Jenner seems real.
1. There is just something so inexplicably organic about Kendall Jenner.
Photo: Instagram
Kendall Jenner is the most normal one in her family.
12. She is more relatable, more all-American and much "safer" than her edgy and rebellious little sis Kylie. That makes her a fit for the all-American Lauder brand.
Photo: Instagram
Kendall Jenner is a more natural beauty than her sisters.
11. Kendizzle also seems more accessible and more girl-next-door, than, say, Kim and Khloe, and she bronzes less, contours less and has way less big-barrelled curls created by a curling iron. Waaay less.
Photo: Instagram
Kendall Jenner is pretty much scandal-free.
10. Kendall also comes with less baggage and won't muck up Lauder perception. We know all about Kim. And her sex tape. And her 72-day marriage. And her blood facials. And her oiled butt. She lets it all hang out. Kendall? Not so much.
Photo: Instagram
Kendall Jenner actually has legit modeling experience.
9. Jenner, Kendall really has done the work to become a legit model rather than settle for being a headline grabber due to her gossipy, reality TV antics. Sure, her famous family gives her an automatic boost, but she has to work harder to prove it's not solely about that. She even dropped her last name at fashion week gigs to dissociate from the Kardashian Klan.
Photo: Instagram
Kendall Jenner has hair to die for.
8. KJ has the purdiest brown locks. So shiny! So glossy! So chocolatey! So warm!
Photo: Instagram
Kendall Jenner is mysterious.
7. We know less about Kendizzle than any other Kardashian family member. There is a mystery and mystique to Kendall, and there is only so much we glean from her IG feed photos. She is not an open book. She is one we look forward to getting to read and to know.
Photo: Instagram
Kendall Jenner doesn't actively court media attention.
6. She is not yet over-exposed. Not. Even. Close.
Photo: Instagram
Kendall Jenner can do sexy without looking skanky.
5. She does have a tendency to be edgy, but it's more subtle and carefully measured. Like those nip shots from W and on the runway. While her little sis Kylie burns up the web with her pouty lipped and blue-haired selfies, Kendall is flashing headlights in spreads and on catwalks.
Photo: Instagram
Kendall Jenner knows how to have fun.
4. There is an element of quiet goofiness to Kendall. Follow her IG feed and you'll pick up on it here and there. Like everything else about her, it's not obvious.
Photo: Instagram
Kendall Jenner has a special supermodel pedigree.
3. She once dated One Direction's Harry Styles, and that's pretty much a pre-requisite for all models. Well, not really, but it should be. Duh.
Photo: Instagram
Designers love Kendall Jenner!
2. She has been slowly and steadily earning her stripes at international editions of Fashion Week.
Photo: Instagram
Kendall Jenner isn't technically a Kardashian.
13. She is actually a Jenner, not a Kardashian, so she is staking her own claim and by using her first name only, she is attempting to "Break Free" of the grumbles, the groans and the history that inevitably come along with her last name. [Insert Ariana Grande single here!]
Photo: Instagram
Previous
Next
BEGIN