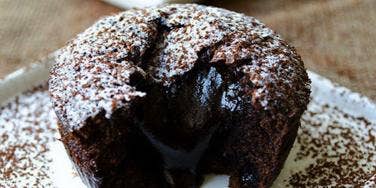 There's a chocolate shortage and that is the worst news ever. EVER.
I don't know if you've heard yet, but the world is running out of everyone's first love: chocolate.
Ok, I'm assuming that after you read that, you freaked out and ran around acting crazy for a few days. Now that you're back, let's talk about it.
Chocolate running out is the worst. Seriously, thanks a lot REPUBLICANS. (I don't know if it's actually Republicans' fault, but I need someone to blame and they're an easy target.) Chocolate is the best. There are multiple holidays built around it. What's going to happen to Halloween? Easter? Valentine's Day? Why are we still at war when this crisis is happening?
Come on, government! Fix this! The worst part is that there are so many other foods out there that I would rather lose. Why chocolate? Here's a list of foods I would rather lose over chocolate. Basically, this is a list that proves how terrible my diet is. This isn't a time to judge me! This is a time to freak out over chocolate! I'm doing just fine!
Artichokes
One time, my girlfriend's mom made me eat an entire artichoke heart. It was as bad as being water boarded. I can't believe I survived it.
Photo: WeHeartIt
Seafood Salad
Whenever someone offers me seafood salad, I add that person to my list of mortal enemies. It's gross and unforgiveable.
Photo: WeHeartIt
Pomegranate
People tell me that pomegranate is very good for you. It also tastes the way that dying feels, so maybe it's not worth it.
Photo: WeHeartIt
Kale
Did you know that you can add kale to a smoothie to give it an extra health boost? Also, you can just eat delicious food and use kale to let people know that you hate them.
Photo: WeHeartIt
Eggplant
Ever think that you're about to take a bite out of a wonderful chicken parmigiana, and then get a mouthful of eggplant? That's how World Wars begin.
Cauliflower
Cauliflower is just like broccoli, only it's white. Considering that broccoli is the worst, this is also the worst.
Photo: WeHeartIt
Cabbage
Cabbage tastes terrible, and also the patches that it grows in sometimes give birth to creepy looking kids. Why chocolate INSTEAD OF THIS?!
Broccoli
My parents always told me that when I grew up, I would come to love broccoli. My parents are liars and I think that they might hate me.
Asparagus
Asparagus makes your pee smell terrible. Not that pee ever smells good, but seriously? SERIOUSLY?! Is that something that people need?
Photo: WeHeartIt
Squash
Sometimes, people make spaghetti out of squash. It's a horrible vegetable that's used to trick people into thinking that they're eating something delicious. Dear Planet Earth, take the hint and kill this plant off.
Photo: WeHeartIt
Previous
Next
BEGIN