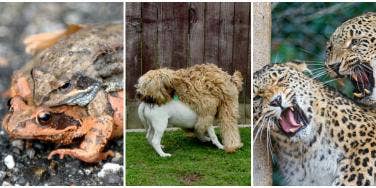 Do you do it animal style?
Birds do it, bees do it, even sentimental bed bugs do it. All animals have sex (okay, ALMOST all animals have sex), and, as it turns out, many more species than once believed have sex just for the fun of it. That's right! Many animals have sex for pleasure like humans.
Scientists have discovered that Bonobos, for example, have tons of sex outdoor of sexy time, including in same-sex pairings. According to the BBC, "A female lion may mate 100 times per day over a period of about a week, and with multiple partners, each time she ovulates." Talk about being on the prowl!
What's most surprising? Wild animals enjoy oral sex, too! Primates, spotted hyenas, goats and sheep are all known to give and receive oral, while "female cheetahs and lions lick and rub the males' genitals as a part of their courtship ritual." The BBC notes that, "Oral sex is also well known among short-nosed fruit bats." Imagine how good they'd be at it if they had long noses.
From dumb dogs to feisty leopards, these 12 animal couples show us how they get down and (literally) dirty. Click through the gallery below and let us know which of these sexy animal couples you look like while you're having sex:
1. Teddy Bears
You love to snuggle, roll around and squeeze each other tight. You like sex more for the affection than anything else ... though of course, it's always a good time to get bare naked with the one you love!
Photo: Başak Ekinci on Flickr
2. Playful Puppies
You love adventure in the bedroom, even if it means you end up barking up the wrong tree. You like to try new things, and aren't embarrassed if you don't exactly know what you're doing. You don't so much like it ruff as you like to be playful. You're always filled with canine-like enthusism and energy, doggone it, and you keep it fresh when you bone.
Photo: Todd Ward on Flickr
3. Cute Camels
You two are the perfect pair. After spending so long out in the dessert, you're thirsty ... for some good old-fashioned grinding. When you're in bed together, you get at least one hump in, sometimes two. And it always leaves you grinning from ear to ear!
Photo: Dolan Halbrook on Flickr
4. Sexy, Sexy Snails
You like it nice and slow. You don't just make love, you make looooooove. You don't have sex to Keith Sweat, you take it all the way down to Barry Whitetown. You like to savor every sensation and really connect with your partner. Once you come out of your shells, you go hard ... at being soft. (And thanks to all that lube, you leave a sticky sweet trail behind!)
Photo: Petre on Flickr
5. Fly Couple
You're sexy and you know it, and anyone who doesn't agree can buzz off. You've got big, beautiful eyes, a sturdy body, and wings to help you fly - even if you did get them at the club when you had that vodka and Red Bull. You like to have sex with the lights on so that you can marvel at how amazing you and your partner are. Just do it quick because your relationship expectancy—like a fly's life—is only 30 days.
Photo: Wagner Machado Carlos Lemes on Flickr
6. Feisty Leopards
You and your partner are so intense, sometimes you're left seeing spots. They're not your imagination, they're bruises from all the biting going on! Rough play is fun as long as everyone is having a good time but remember, you have a right to consent to everything that happens to you in bed. To prevent things from getting out of control, be sure to communicate before, during and after sex about what's okay and what isn't.
Photo: Tambako The Jaguar via Flickr
7. The Stallion and the Mare
You're an on-the-go woman of today and your partner is a total stud. The only problem is, you guys aren't coordinating your schedules to make time to go buck wild! He's always chasing you down, and you're always brushing him off. Make sex a priority in your relationship and stop saying neigh.
Photo: Crowcombe Al on Flickr
8. Tired Old Cows
Are you sick of the same old bullshit sex every time? Is your guy so insensitive when he's doing his thing that your face ends up against the wall ... that happens to face his roommate's room? You guys need to shake things up before your relationship heads out to pasture. Grab the bull by the horns and go for it! What are you waiting for? In the meantime, maybe ask him to do some laundry; I think the smell might be coming from that pile.
Photo: Tim Dobbelaere on Flickr
9. Randy Reindeer
Is your body made of salt, girl? Cuz I just wanna lick you. You know I'm not like Santa because I never shout, "Ho, ho, ho," and that's because I respect you and would never reindeer-shame you. I just wanna lick you, boo. LET ME LICK YOU.
Photo: John Morris on Flickr
10. Ribb'd For Her Pleasure
Are you having problems miscommunicating in your relationship? Are you horny as a toad while he's so bored he looks like he could croak? Maybe you need to figure out which love language each of you speaks so you can communicate with better understanding. Hop to it!
Photo: Niccolò Caranti on Flickr
11. Frisky Meerkats
You love your body and you love to party! In your world, threesomes are as common as the missionary position in Minnesota. You're a free spirit with a GGG attitude. Have fun out there! Be safe!
Photo: Tambako The Jaguar on Flickr
Previous
Next
BEGIN