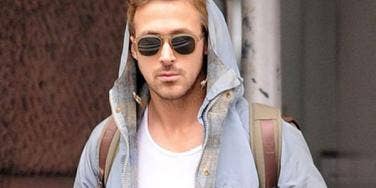 Lumbersexuals just might be our new favorite trend.
Move over, metrosexuals — lumbersexuals are here, and they're taking over Hollywood. According to GearJunkie, a lumbersexual "looks like a hardened outdoorsman but his flannel feels soft to the touch. He will open your beer with an omni-present Buck knife. He is a master of the retro Instagram filter. His flannel is coated with a waterproof DWR coating. His laid-back style has been honed with more effort than he would like you to know."
Think Luke Danes from Gilmore Girls combined with Zac Efron. Think Ron Swanson from Parks and Recreation mixed with Jake Gyllenhaal. The lumbersexual wears plaid shirts and hiking boots, he sports a perfectly messy beard, and although he looks like he should be camping, he's probably out drinking a really expensive glass of scotch. Despite the fact that these descriptions make lumbersexuals seem like a more scruffed-up version of a hipster, one thing's for sure: the look is definitely still sexy.
The lumbersexual may put some careful consideration into his rugged image, but he still knows how to build a fire in a matter of a few minutes and fix your broken bathroom cabinet (or maybe just build you a new one altogether). Since both lumbersexuals and beards are enjoying a big moment in Hollywood right now, let's take a moment to appreciate these 10 celebrity lumbersexuals.
1. Ryan Gosling
Ryan Gosling as Noah in The Notebook plus Ryan Gosling in real life equals the perfect version of a lumbersexual. Walking around New York City in flannels, boots and his glasses, it almost seems like he invented the term.
Photo: WeHeartIt
2. Joe Manganiello
Joe Manganiello was one of the first celebrities that came to mind when I first heard of this new man trend. With his scruffy facial hair, very impressive muscles, and his overall outdoorsy demeanor, Joe basically defines the word lumbersexual.
Photo: IMDB

3. Charlie Hunnam
Charlie Hunnam's character Jax in Sons of Anarchy definitely seems like a tougher version of a lumbersexual. Even when he's out of character wearing a tux on the red carpet, Charlie seems like he would be more at home sitting around a fire he built in the middle of the woods.
Photo: IMDB
4. Tom Hardy
A lot of the characters Tom Hardy plays give off the lumbersexual vibe, but even in real life, the actor pulls it off so well. Few men look this amazing in a beard.
Photo: IMDB
5. Liam Hemsworth
Even in a fancy tux, Liam Hemsworth looks like he could build a house with his bare hands. He's even got the whole brooding attitude going on.
Photo: IMDB
6. Shia LaBeouf
Shia LaBeouf has come a really long way since starring on the Disney Channel. Now he might be one of the reasons the term "lumbersexual" even exists.
Photo: IMDB
7. Jake Gyllenhaal
Jake Gyllenhaal obviously cleans up really well, but his messier bearded look is somehow even more attractive. I think I definitely prefer Jake as the lumbersexual he's been looking like lately.
Photo: WeHeartIt
8. Zac Efron
Zac Efron can do the whole clean-shaven, metrosexual thing just as well as he can do the lumbersexual thing. His facial hair definitely gives him more of an outdoorsy vibe.
Photo: IMDB
9. Jon Hamm
Replace his tux with a flannel and a hat, and Jon Hamm is the lumbersexual you've been waiting for your whole life. Plus, I have no doubt that he's capable of getting anything involving physical labor done.
Photo: IMDB
10. Jeff Bridges
Jeff Bridges is definitely the silver fox of all celebrity lumbersexuals. There's something about him that just makes it seem like he would be more at home in a cabin in the woods than at any red carpet event.
Photo: IMDB
Previous
Next
BEGIN