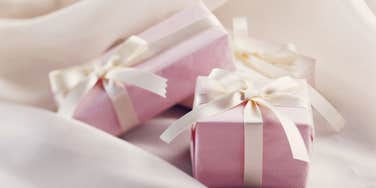 We found the most lavish billionaire gifts to put on your list. Here's how to make them a reality!
There exists in the world a category of gifts that are pretty much unfathomable to us 99-percenters. Desserts made out of legitimately edible gold? Watches that cost as much as your college loans? The crazy items the rich buy for themselves can seem like just a headline, at times. But we'd be lying if we said we'd never thought of what it would be like to buy something like that for ourselves, or give it as a gift.
Fall is a notoriously tight time when it comes to budgets, with all the holidays clustered together. You probably feel least like a billionaire during the fall, with all the gift buying and traveling you're doing. However, when fall merges into the holiday season, our favorite way to pamper ourselves like the upper echelon of the rich is to curl up with a romantic book by the fire during the holidays.
Harlequin Presents has the perfect line of books for the season, with some of our favorite titles like The Twelve Nights of Christmas by "USA TODAY" bestselling author Sarah Morgan and To Claim His Heir By Christmas by "USA TODAY" bestselling author Sharon Kendrick.
Reading one of their newest titles, Christmas In Da Conti's Bed, centers on being romanced by a billionaire. Who wouldn't want to feel like they could have anything their hearts desired? That's why we decided to create the ultimate billionaire gift guide to help you make these fantasies a reality. Yes, we know it seems crazy but we have a few gifts for you to peruse below. We found the incredibly lavish billionaire-level gifts that seem almost intangible and then matched them with their more realistic counterparts.
Go ahead and pick out a few of these gifts for your hubby or family this year (and make sure to treat yourself to a book or two) and you'll all be living like billionaires… or at least, imagining you are. And when you're done, pick up Christmas In Da Conti's Bed and all the other Harlequin Presents titles to keep you warm this winter.
Sponsored by Harlequin Books
Billionaire Gift:
Billionaire Gift:
Believe it or not this weird-looking ocean space pod is actually a yacht. It has 11 decks and falls into the category of "yacht island," which means it's on another level of private luxury. Nothing could be more decadent.
Image source: studio43.com
Gift This Instead:
Gift This Instead:
This copy of Brave New World is absolutely gorgeous and educational at the same time. Who needs Project Utopia when Aldous Huxley is very clear that's NOT the direction we should be taking as a society!
Image source: bravenewworldproject.blogspot.com
Billionaire Gift:
Billionaire Gift:
Apparently people will pay upwards of a million dollars for priceless jewelry that's touched Elizabeth Taylor. That makes these jewels perfect for your discerning friends who are simply too hard to buy for. You can't argue with movie star jewelry.
Image source: The Daily Beast
Gift This Instead:
Gift This Instead:
For those of us who aren't crazy, we'll take the realistic jewelry buying into the 21st century. Baublebar has gorgeous necklaces and collections curated by the likes of Emma Roberts and Coco Rocha. They also have amazing personalization options for their monogram necklaces and signature nameplate necklaces.
Image source: bowsandsequins.com
Billionaire Gift:
Billionaire Gift:
This is probably the cheapest of our billionaire gifts at only $2,000 but keep in mind that is the price of one single razor. The Zafirro razor is made of actual titanium alloy and has sapphire blades (no, we're not joking). But apparently it doesn't oxidize or go dull, so maybe it's worth it.
Image source: luxurystnd.com
Gift This Instead:
Gift This Instead:
In our opinion, updating your razor monthly can be just as good as buying a really expensive one. A subscription to Dollar Shave Club starts at as little as $1 a month (staying true to their name) and they'll deliver you a new set of razor cartridges every month so you don't have to think about if your blades going dull. You can also add things to your monthly box like their shave butter at a discounted price.
Image source: saltyheirs.com
Billionaire Gift:
Billionaire Gift:
This is the glamping cousin to the Project Utopia yacht. The Dream Folly tent is the most luxuriest yurt on the market, which sounds like an oxymoron. Yurts are portable structures that can be used in place of tents for longer periods of time. Dream Folly is made to replicate the inside of Jeannie's bottle from I Dream Of Jeannie for the low, low price of $75,000.
Image source: Rainier
Gift This Instead:
Gift This Instead:
Blue Green Getaways meets you halfway when it comes to glamping. You can book an outdoor trip for around $300 and stay in a place that actually feels cozy. This is also great for people who love the outdoors and actually want to enjoy them. You'll also have plenty of time to read your favorite Harlequin Presents Christmas title on the deck. Search for your favorite one here and discover their past titles as well as the newest ones!
Image source: Blue Green Getaways
Billionaire Gift:
Billionaire Gift:
Because Hermes doesn't make enough ridiculously priced luxury items, they also make a bicycle that costs $11,300. It's made of carbon and water-resistant taurillon leather, making it the lightest, most expensive bicycle you'll ever own.
Image source: See You Anon
Give This Instead:
Give This Instead:
Bicycles are quickly coming back into fashion and Schwinn knows it. Their bikes are stylish and it's a great way to get your exercise in. Get one with a basket (for carrying your favorite Harlequin book, of course) and you can ride it to work or around town. We're obsessed.
Image source: Amazon
Previous
Next
BEGIN