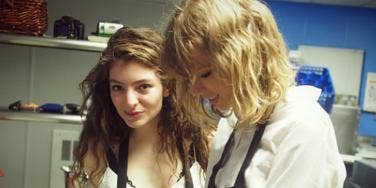 Don't mess with Lorde or her BFFs. She WILL slay you.
Here's a tip, all you Taylor Swift haters. And we know, there are may of you and your numbers are strong. Even if you are reportedly dating Katy Perry and you diss her nemesis T. Swizzle, like producer Diplo did by tweeting that a crowdfunding campaign needed to be launched to get the flat-butted Swift a "booty," the "Shake It Off" singer's army of besties can and will defend her honor and her shape. Like the smart, savvy, sassy Aussie that we love, Lorde, did.
The "Royals" singer actually became pals with Swift after Lorde's words in an interview about the media's perception of the flawless, "I woke up like dis" Swift ideal, and how it could affect young girls, were twisted.
She stood up for her BFF and replied to Diplo's seemingly out-of-nowhere diss by insulting his manhood and calling his penis "tiny." Ouch! Lorde posted a tweet that read: "@diplo should we do something about your tiny penis while we're at it hm." Oooh, burn! Taylor Swift sure has some awesome pals in her corner. Lorde totally and completely slayed Diplo.
Nice work, Ella. That's her birth name, for those keeping score at home.
Here are 12 legit and maaaj reasons why we all love Lorde.
1. Lorde is a loyal and amazing friend.
Did we mention that she came to the verbal rescue of her bestie T. Swizzle? Oh right, we did. That was a way beyond legit and totally cool thing to do. Now can we get a Lorde x Taylor duet, please? It could vie for chart space with a Katy Perry x Rihanna duet. LOLZ.
11. She isn't afraid to say what she thinks.
Case in point is this story that circulated in the press a while back. When Lorde heard that uber producer David Guetta expressed an interest in working with her, which he later disputed, she said she was not interested in pursuing such a collabo since he is/was "gross."
10. Lorde is curating Mockingjay Part 1 soundtrack.
That firmly and securely aligns her with a fellow buttkicker aka J. Law. Lorde and The Law are totes cut from the same superheroine cape cloth!
9. She chose the name "Lorde" as her stage moniker.
It totally conveys her inner strength, even though she is just 18. And remember, she selected it when she was much younger.
8. Lorde was recently featured/parodied on South Park
That is a cultural milemarker that lets you know you've truly arrived on the pop culture radar.
7. More fearlessness!
Lorde wasn't afraid to be critical of Selena Gomez's music, knowing that she'd have to deal with Selenators, an army in and of themselves, who would and did respond with their backlash.
6. Lorde is fearless about her face!
She routinely posts "no makeup" pics on Instagram and isn't afraid to be herself and to show herself "as is." Screw Photoshopping!
5. Lorde has amazing hair.
That gorgeous and wild mane of mahogany curls. Those things are dangerous. And beautiful. So they are dangerously beautiful or beautifully dangerous.
4. Lorde is super witty.
Read her IG captions. She is smart and very funny. Follow her and get lost in her feed. Spend some time trolling. There's a lot of intellectual ass kickery going on in there.
3. Lorde has amazing style.
Her vampy, goth look is aces. She is a style star and has become an unlikely trendsetter.
2. Lorde might be a saint.
Doesn't she sort of remind you of Joan of Arc? Young. Badass. Wild. Determined. On a quest to save music. Joan-like traits, indeed.
12. "Royals!"
Duh! What a helluva debut song.
Previous
Next
BEGIN