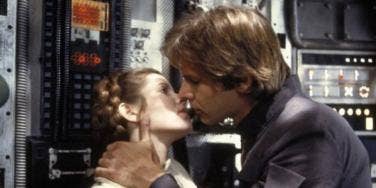 We want to give some credit to fictional couples that made us unexpectedly root for their love.
Usually you know what you're going to get when you go into a movie. When you go to an action movie you are going to see over the top graphic effects, lots of guns and half-naked women.
When you go to a horror film you are going to see blood, jump scares and creep costumes. When you go to a romantic movie you are going to see some sort of "meet cute," there will be some last minute breakup, and they will finally reconnect for the end.
We created a list of romances in movies that sort of go against the grain. These 12 movies have great love stories, but not all of them necessarily fall into the romance genre. Also, the ones that do fall into the romance category have plot lines that wouldn't normally be romantic or are very outside of the box.
Although we swoon over romantic movies that are full of clichés like The Notebook and Love Actually, we want to give some credit to fictional couples that made us unexpectedly root for their love.
Which of these unexpected movies drew you in with their romantic storylines? Tell us in the comment section below!
Photo: We Heart it
1. Drive
This movie got a lot of press for its lack of dialogue, but something that was an unexpected surprise was the love story.
Once again, Ryan Gosling plays a man devoted to a woman that he loves. However, the ending to this love story is very different from his other movies.
Photo: We Heat It
11. Wall-E
You may think this movie is just about a little robot living in the future, but it turns out to be a story of Wall-E saving Eve because he quickly connects to her. What a great twist!
Photo: We Heart It
10. The Empire Strikes Back
Star Wars is undoubtedly an action franchise but the back and forth between Han Solo and Princess Leia is such a big part of it. These two characters will forever be remembered as one of many great fictional romances.
Photo: We Heart It
9. X-Men First Class
Along with First Class, we got the back story of so many characters include Mystique, Professor X and Magneto. The love triangle between them is very different from love triangle stories before it because the conflict that comes between them are based on something important—how to probably start a movement.
Photo: We Heart It
8. Lord Of The Rings: The Two Towers
There are a lot of things going on in this franchise, but like Star Wars, two characters' love for each other ends up stealing the show. The love story between Aragorn and Eowyn is the culprit for this movie.
Photo: We Heart It
7. Lars and the Real Girl
If anyone simply described this movie as a man who falls in love with a doll then they wouldn't expect it to be compelling, but Ryan Gosling proves those people wrong. This love story couldn't be any better if Bianca was played by a real actress.
Photo: We Heart It
6. Inception
This big blockbuster was sold on its star power and special effects. What it wasn't publicized was the touching love story of Leonardo Dicaprio's character and his wife. It does, however, have a huge affect on his character and the disasturous situation he's in.
Photo: We Heart It
5. Her
Yes, this movie said up front that it's about a man who falls in love with his operating system, but most people expected it to be more about the commentary on our society than a depiction of an actual relationship.
Well, this movie ended up turning that expectation on its head. The relationship between the two end up being quite realistic and relatable.
Photo: We Heart It
4. Don Jon
After watching the first half of this movie you might expect some failed attempted at a romantic storyline that would somehow save it from just being a movie about some bro's porn addiction.
This movie pleasantly suprises you with a very touching love story, and strips the main character of his outrageous ways.
Photo: We Heart It
3. UP
No one expected UP to be anything other than a funny kid's film. After the first few minutes it was able to package one of the sweetest, tragic love stories totally silent. Since then people have recreated Ellie and Carl in engagement shoots because it's such a great love story.
Photo: We Heart It
2. Edward Scissorhands
Like most Tim Burton films, this is one has a dark twist featuring a man who has scissors for hands. At first glance you might think this would be a horror film but it is actually an interesting love story between him and a young girl.
Photo: We Heart It
12. Rocky
Rocky is about a boxer who gets to go up against a heavy-weight champion. Most people focus on the workout montages. But this movie also had a great love story between him and Adrian, a pet shop worker. The scene of their date at the ice skating rink is one of the best parts of the movie.
Photo: We Heart It
Previous
Next
BEGIN