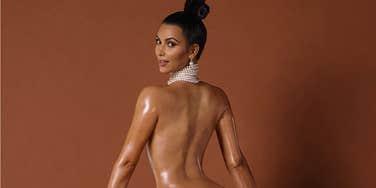 Benjamin Button is more believable than Kim Kardashian's butt.
OK, for everyone talking about Kim Kardashian's supposedly super-sexy butt pic from that Paper magazine cover: that isn't real. It's clearly photoshopped to Hell and back. That's not what her butt looks like, that's not what any butt looks like. Everyone needs to stop freaking out, it's basically a cartoon picture.
There's nothing offensive about it, and there's also nothing edgy about it. She isn't showing off her real body, just some image that someone created. There's nothing brave about it, there's nothing slutty about it, there's nothing to love about it, it's not a real thing. It's just a magazine cover that's doing what it was created to do, get publicity. Once again, who cares? It's so photoshopped it's not even real looking. Someone could have painted a more realistic picture than that. Just for the sake of it, here are 10 Hollywood effects that are way more realistic looking than this "photo" of "Kim Kardashian."
1. Any aliens from Star Trek look more real
Everyone alien on any Star Trek TV show or movie basically looked like a normal person with a weird face. Still more realistic than whatever they tried to do with that Kim Kardashian naked butt photo in Paper.
Photo: IMDB
9. Chris Evans' tiny Steve Rogers is more real than Kim's butt
Remember how creepy the beginning of Captain America was? Well, it's nowhere near as creepy as Kim K.'s photoshopped butt.
Photo: IMDB
8. The Kim Kardashian cover is less plausible than Slimer
We don't know what ghosts actually look like, but this looks real to me. I didn't even realize that this was a special effect until a few years ago.
Photo: IMDB
7. The Predator is less horrifying than Kim's fake butt
Hey, hold up this picture next to Kim K's magazine cover and see which one you believe in less. Seriously, do it. And then hope that Danny Glover and Arnold Schwarzenegger live forever to keep you safe.
Photo: IMDB
6. Davy Jones is more real than Kim Kardashian is in photos
Davy Jones didn't even really exist. Kim K's butt does exist. Why does Davy Jones look more real than Kim Kardashian's butt?
Photo: IMDB
5. King Kong > Kim Kardashian butt photos
King Kong does not look realistic, but he looks way more expressive than Kim K's butt does. And, to be honest, more expressive than her current face does. (Seriously, why'd she do all that work to her mug? She was perfectly lovely in 2006 with her original face.)
Photo: IMDB
4. Jason Voorhees needs less Photoshop than Kim K
You want to talk about brave? Jason Voorhees looks like this underneath the hockey mask, and he still allowed himself to be filmed for all those Friday the 13th movies.
Photo: IMDB
3. The Incredible Hulk is still more credible than Kim Kardashian
I believed in the Hulk. I don't believe in Kim Kardashian's butt. I don't think it's actually a thing that exists.
Photo: IMDB
2. Godzilla is less destructive to society than Kim Kardashian is
Yes, this was just some guy in a rubber suit. Guess what? More convincing than that butt, and probably much less damaging to women's self-image issues.
Photo: IMDB
10. Benjamin Button is more believable than Kim Kardashian's butt
Say what you will, but that looks like an old man/baby Brad Pitt. That's exactly what it would look like.
Photo: IMDB
Previous
Next
BEGIN