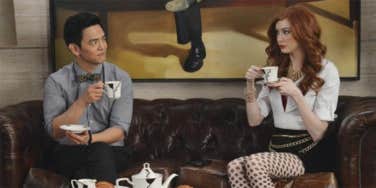 Dear John Cho, I expected more from you.
Why ABC ever read this pilot and thought that it would make a good show audiences would love is beyond me, but they did and for the good of all humanity it has been canceled, even though they are airing the remaining ordered episodes.
In case you're not as in tune with pilot season as I am, Selfie is a show about a girl who is so involved with online social media that she forgets basically how to be a human being. She has no idea how to interact with other humans (which I guess is pretty realistic these days, so I will give them that). However, she enlists the help of her coworker to basically teach her how to get back into the real world.
While the concept seems somewhat intriguing, this type of show is probably better set for a branded web series aimed directly at teenagers online. No self-respecting adult would ever take the time to watch this on Tuesday night when New Girl and The Mindy Project are on. First of all, as someone who enjoys terribly scheduled programming, I am still confused how more people wanted to watch Selfie over Manhattan Love Story. While both were awful options, at least in one of them I could stare at Jake McDorman. I love John Cho, but in a sexual situation, I'm going home with Evan Chambers (yes, that is a Greek reference). Here are 12 reasons Selfie deserved to be pulled off primetime:
1. Just for being named Selfie.
Have some self respect.
Photo: IMDB
2. The terrible My Fair Lady references.
Really? We're going to called her Eliza Dooley? Audrey Hepburn is rolling over in her grave right now.
Photo: IMDB
3. Plus, Eliza's the worst.
She needed to be punched in the face. Really hard.
Photo: IMDB
4. Am I supposed to feel bad for her?
Put down your phone, a**hole. It's not that hard and the only people who can't put down their phones are already in bed by the time the show airs.
Photo: IMDB
5. Hardworking 20-somethings never act like that.
Sorry, but if that girl walked into a self-respecting office, she would be fired and there's no way she would be the No. 1 sales rep.
Photo: IMDB
6. Is this a serious love interest?
Are you really going to convince me that John Cho willingly dates this girl?
Photo: IMDB
7. John Cho is not the romantic lead.
I'm sorry. I love John Cho. I've watched Harold and Kumar countless times, but you're not honestly trying to make him the desirable man on the show. #castingproblems
Photo: IMDB
8. Who wants to watch someone on social media?
No really though, if we've gotten to a point where we are watching a show about someone on Facebook/Twitter, we've all hit the bottom.
Photo: IMDB
9. It's not funny.
It's almost depressing watching her attempt to be a real person.
Photo: IMDB
10. This show makes me want to quit social media.
Because of how bad it is and the fact that someone, somewhere thought this would be a hit.
Photo: IMDB
11. I'm 10 minutes in…
…and I feel very awkward watching the lead character sucking on her pen at the workplace to try and seduce a guy.
Photo: IMDB
12. The outfits.
Who dressed these people? That all girls book club looks like its straight out of the 80s. They aren't even dressed like that ironically. #hipsterfail
Photo: IMDB
Previous
Next
BEGIN