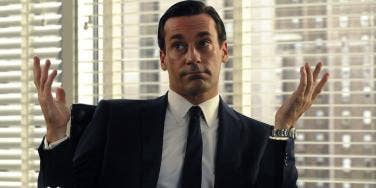 Seriously, NO ONE can resist Jon Hamm.
The other day, I overheard somebody say "They don't make men like they used to." As a guy, I was a little insulted. If anything, I'd like to consider myself an updated model on the classic man. All the good stuff that the old model had, plus some nice upgrades.
It doesn't matter though, because that person was wrong. Jon Hamm, the star of Mad Men, is a classic man, through and through. He's handsome, smart, charming and funny, ladies. What more do you want?!
I doubt anyone would even try to argue this with me, but if they do, I have that covered. I don't just say things with no evidence to back them up. Maybe an old model man would do that, but not me. I have ten reasons why he's the best right here, and you'd better read them, or Hamm will get mad. Then Hamm will smash, and you don't want Hamm to smash. (Or maybe you do. I wouldn't blame you if you did.)
Jon Hamm is a silly guy.
Look at that face! Even though the scene that this picture is from is about him being a jerk, that smile just brightens my day. Oh my!
Photo: IMDB
Jon Hamm is a good guest.
Here he is having a pleasant conversation, sitting on a couch. This is totally a guy who can be brought home to the parents, ladies. Also, Jon Hamm is a very famous TV and movie star so your parents would be impressed anyway.
Photo: IMDB
He was a Shrek!
He wasn't the Shrek, but he was a Shrek. That's got to count for something. I didn't see the movie, so I don't know if he was a good Shrek or a bad Shrek, but I don't care. Jon Hamm was a Shrek, and that's amazing.
Photo: IMDB
Jon Hamm at least looks like he could be a doctor.
Jon Hamm is not actually a doctor. Don't actually ask him for medical advice. You're going to want to, though, because he's such a convincing looking doctor.
Photo: IMDB
Jon Hamm knows about politics.
Here he is talking to Jon Stewart. Jon Stewart talks about politics. Also farts. So he and Hamm are either talking about politics or farts. Either way, I'm impressed at how classy they make it all seem.
Photo: IMDB
He's a man of action.
If Jon Hamm is around, and crime happens, then crime just made a mistake! Crime shouldn't even bother when Hamm is around.
Photo: IMDB
Jon Hamm knows a good thing when it happens.
That's Jon Hamm in a music video where Rihanna takes him as a hostage. Which he clearly understands isn't the worst thing to happen to anybody.
Photo: IMDB
Jon Hamm knows how to make women swoon
Jon Hamm gets it, you can't just be handsome. You have to say the right things. They don't always have to be about frosting, but who doesn't like frosting?
Photo: IMDB
Jon Hamm's got a classic sense of humor.
Here's Jon Hamm showing us that he both knows classic movies and that he also showers. Those are two good features for a man to have!
Photo: IMDB
Jon Hamm sticks up for the underdog.
Here he is sticking up for people that have hook hands. Or making fun of them. Either way, good job, Jon Hamm.
Photo: IMDB
Previous
Next
BEGIN