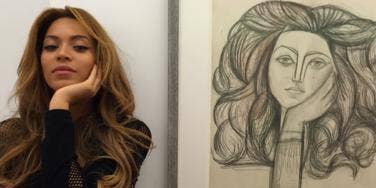 Politicizing Beyoncé, Taxi Driver Yoga and more classes that'll make you want to go back to college.
For those of you who haven't been in college for quite a few years, things are a wee bit different now. Although you can still get your hands on staples like math, science, and English classes, if that's your thing, the outside world is making a far greater impact on college curriculum and what it has to offer their students each year. When I was at university, the "strangest" class my school offered was wine tasting. I remember that even though I thought it was brilliant, my parents were dead set against it. I was a 21-year-old from New Hampshire — what the hell was I going to do with a wine tasting class? I certainly didn't have the dignified palate to be a sommelier.
But these days things aren't so basic when it comes to classes, both elective and core. While wine tasting classes was a big to do 10 years ago, last spring my alma mater, the University of New Hampshire, offered a Women Studies panel discussion on women in the sex industry. Naturally people were up in arms, because that's what people do best when something steers off the normal path, but honestly, I imagine the experience for the students was one of enlightenment.
College courses that don't exactly conform seem to be getting more and more common, and although some taxpayers and parents may not like it, they're not going anywhere anytime soon. Here are 11 college classes that will make you, "WTF?"
Photo: We Heart It
1. Elvish, the Language of "Lord of the Rings"
It's only at the University of Wisconsin where you can actually take a class that will teach you to communicate with elves. Although, I'm not sure if all elves speak the same language, from country to country, this course is specific in the language from "Lord of the Rings," because of course.
Photo: We Heart It
2. What What In the Butt: Anal Sex 101
It may only be a wee- long course and offered during Harvard's annual Sex Week, but it's still a legit class at the prestigious university taught by anal sex experts from Good Vibrations. I'm sure Harvard's forefathers are rolling over in their graves about this one.
Photo: We Heart It
3. Underwater Basket Weaving
At first, when you hear the title of this class, you might be all, "WTF," but then when you realize that it's offered at Reed College in Portland, Oregon, you can't help but be all, "Not surprised. Not surprised at all."
Photo: We Heart It
4. The Textual Appeal of Tupac Shakur
My knowledge of Tupac is pretty non-existent, so I feel wrong in passing judgment. However, I just can't imagine any parent who's paying for their kid's education at the University of Washington being all gung-ho about this class: "I'm paying 40k a year to so you can analyze Tupac's rap songs?!" I'd love to be the fly on the wall of that Thanksgiving dinner.
Photo: We Heart It
5. Tree Climbing
Because being able to climb trees is especially important in today's world, Cornell University stepped up to the plate and offered this course for those who understand just how important it really is.
Photo: We Heart It
6. Lady Gaga and the Sociology of Fame
At the University of South Carolina there's a professor by the name of Michael Deflem and his number one love is Lady Gaga. Deflem, so intrigued with Gaga and her fame, decided to offer a course on the topic.
Photo: We Heart It
7. The Sociology of Miley Cyrus
Because if you're going to look deep into the sociological end of things in regards to Gaga, you might as well get equally eccentric and attention hungry Miley covered, too. Sadly, you can't take both these classes back-to-back unless you transfer schools, because this one is only available at Skidmore.
Photo: We Heart It
8. Taxi Driver Yoga
For starters, I didn't even realize one had to take a course in being taxi driver, especially based on the thousands of cabs I've been in while living in NYC, but yet college level courses in it do exist, as does Taxi Driver Yoga. The class teaches drivers about the important of diet, positive thinking, and how to properly breathe.
Photo: We Heart It
9. The Phallus
At Occidental College you can learn everything there is to know about the phallus and its relation to everything. It even covers the "whiteness of the phallus," as well as the "lesbian phallus."
Photo: We Heart It
10. Politicizing Beyoncé
Thanks to Rutgers University, you can spend an entire semester discussing and studying just how awesome Beyoncé is with your fellow Bey lovers. From her music to her impact on feminism and social change, this class clearly gives our queen the royal treatment she deserves.
Photo: We Heart It
11. The Joy of Garbage
Although the name of the course leaves much to be desired, this class at Santa Clara University is all about the waste problems the world faces and the solutions to get it all under control. I also imagine a trip to the dump is in there somewhere, and who doesn't love a little trip to a hot, pile of several-day-old trash? Yum.
Photo: We Heart It
Previous
Next
BEGIN