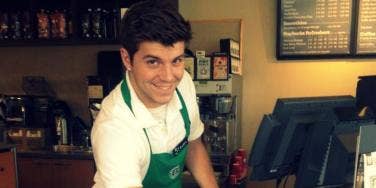 Wait until you meet Steve from Starbucks.
If you've used the internet in the last week, you've been introduced to Alex from Target — a 16-year-old Target employee from Texas with sparkly blue eyes, a baby smooth complexion and a million dollar smile that has teen girls everywhere swooning, hashtagging, and basically blowing up the web with images of his face.
After a photo of him at work went viral, he appeared on The Ellen DeGeneres Show to discuss his newfound fame and devoted fan base. Alex went from 144 Twitter followers to 550,000 in just a few days, and the hashtag #alexfromtarget has now been used over 900,000 times. On Tuesday, a company named Breakr claims it's all a marketing ploy they orchestrated, Alex tweeted that he's never heard of the company or the CEO who says he's responsible for making Alex internet-famous.
Either way, this mega-popular hashtag has also been used to call attention some of the lesser-known, just as good looking employees who aren't getting the recognition they deserve.
To correct that, we've rounded up our 10 faves, from Steve, who will get your name right at Starbucks, to Dylan, who makes shopping at Goodwill a sexy experience.
Which employee would you want to help you out?
Photo: Twitter
#SteveFromStarbucks
Word on the street is that he gets your name right every time.
Photo: Twitter
#HarryFromTheBakery
10. #HarryFromTheBakery
Okay okay, it's technically Harry Styles helping out at the bakery he used to work at in his hometown — but Twitter users are hell bent on reminding us who made part-time jobs look sexy first — way before Alex from Target ever bagged a grocery.
Photo: Twitter
Previous
Next
BEGIN