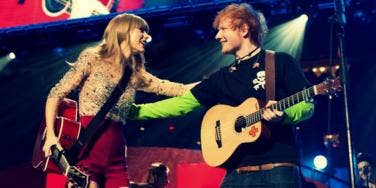 If we were writing fan fiction, these 13 celeb couples would exist.
Celebrity couples come and celeb couples go, from Bennifer, who are actually celebrating their 10th anniversary of breaking up in 2014, to Kim Kardashian and Reggie Bush. 'Member when those two goofy kids were a unit and she made a sexy calendar for him? How could you forget, right?
Celeb unions, be it a brief romances, a long-term relationship, a fledgling hookup that goes nowhere or a quickie (and not well-thought-out) marriage, often crumble under the weight of public and media scrutiny.
That said, we love celeb love stories and celeb couplings. In fact, if we were matchmakers or if we were love fairy godmothers, these 13 celeb couples would currently be indulging in the happiest ever after...ever!
Some of these not-together-couples were once involved and some have long since parted. Some have endured recent splits. Some were never together in the first place, but we sort of wish they would get their hook up on for a variety of reasons.
Whatever the case, they just seem like they belong together and are the right fit in some crazy, inexplicable way, even if only in our minds.
This is our version of fan fiction, with celebs as our characters. Check out 13 celeb duos we wish were together and why.
Photo: weheartit.com
1. Nathan Sykes and Ariana Grande
Did you ever see their explosive, dripping with chemistry duet of "Almost Is Never Enough?" If you haven't, Google it. You'll quickly see that it's no wonder that romance was born of their studio steaminess. Grande is the biggest voice (and tiniest frame!) in pop music, while Sykes is planning his next post-The Wanted move. Their 2013 romance flamed out after four months, but they were adorbs when they only had eyes for each other. We ship them harder than UPS.
Photo: Instagram
2. Bruce and Kris Jenner
Something is legit amiss in Kardashianville. The universe isn't properly spinning in its axis. It's as though there is a splinter that we cannot not locate, but it gives us a constant annoyance. And no, that's not our assessment of Lord Disick. He is the most redeeming thing about dat fam! But what troubles us so? It's the fact that Kris and Bruce are apart. When they went their separate ways, he started painting his nails and planning Adam's apple shavings. S**t's not right.
Photo: IMDB
3. Russell Brand and Katy Perry
Is it us or did this marriage end … too quickly and too millennially? Perry has to forgive the fact that her British comedian ex-hubby dumped her unceremoniously (and like a teenager) via text. These two seemed to feed off one another's smartness and sarcasm. Plus, they both said that they liked being married to each other after the ink on the divorce papers, which Perry signed with a smiley face, was dry. Give it another go, guys! (Especially because everyone Katy's dated since has been an even bigger jackass than Russell.)
Photo: IMDB
4. Jordin Sparks and Jason Derulo
These two extremely talented singers just split, but they were so damn cute together. It's too new, it's too new, but we are in the denial stage and still hope for a reunion. But the door seems slammed shut over the fact that she wanted a deeper commitment (read: MARRIAGE!) and he didn't want to put a ring on it ... even though he wrote her a song about it. Ouch!
Photo: IMDB
5. Rihanna and Kate Moss
We imagine these hot babes as a couple, simply because of their sexalicious V magazine cover and photo shoot from a while back. It oozed sex right off the page and the screen. It was the hottest thing we ever did see. We're sure that the dudes would love to see RiRi and Kate get their hookage on, thanks to this steamy spread.
Photo: V
6. Selena Gomez and Justin Bieber
Try as they may, Jelena cannot and do not stay apart. The posted-then-shared-by-Beliebers-and-Jelena-shippers-before-being-deleted IG photos of their secret romance exhaust us. Just get married already. And call FedEx, because we ship you.
Photo: IMDB
7. Gwyneth Paltrow and Chris Martin
We would like a reunion betwen these two simply because we want the term "consciously recoupling" to become a cultural buzzword. Plus, the Coldplay singer makes the snooty Goopster instantly more likable. Without him, she's just annoying, pretentious, unrelatable, bougie, elitist Gwynnie.
Photo: IMDB
8. Ed Sheeran and Taylor Swift
These two were freakin' meant for each other. They write love songs. They are BFFs. They tour together. They slap their hearts on their sleeves. They even appeared as themselves and as parents of a mini Tay Tay and a mini Ginger in their "Everything Has Changed" video. Come out as a couple and get it over with! #Sweeran
Photo: Instagram
9. Britney Spears and Harry Styles
Brit might be a coug or a MILF at this point, but she could totally tame Harry Styles. Spyles, anyone? Stears? This would be one amazing May-December, kids. Huzzah for Brit and Hazza.
Photo: IMDB (2)
10. Demi Lovato and Niall Horan
We can never, ever get a clear read on the nature of the singer's relationship with Wilmer Valderrama and for a while, Lovatics and Directioners thought these two had a secert fling. When there were all those Demi x Niall rumors and rumblings, we thought they'd be, like, the cutest couple ever. Who wouldn't want to date a member of One Direction? Like, duh! (Plus, Wilmer Valderrama is a total skeezeball and we think Demi can do way better!)
Photo: IMDB (2)
11. Lindsay Lohan and Aaron Carter
These former teenage flames are both trainwrecks. Two wrongs could make a right, right?
Photo: IMDB (2)
12. Hilary Duff and Aaron Carter
Because history repeats itself and he was once the bone of contention between Duff and Lindsay Lohan. His recent public pleas via Twitter to try and get Hil back made us all really, really uncomfortable and her nebulous relationship with estranged hubby Mike Comrie weirds us out. Plus, we wanna see Hil and Li Lo catfight over Mr. Carter. As in Aaron, not Jay Z, because let's be real: There is no way anyone can nor ever will upgrade from Beyonce.
Photo: IMDB
13. Paula Patton and Robin Thicke
The actress grounded the singer … and there's something so romantic about high school sweethearts. But he always seemed to be all handsy, having roving eyes and other body parts, and his public groveling to "Get Her Back" via the flop album Paula was creepier than Aaron Carter's tweets about Hilary Duff. That said, neither works without the other in this case.
Photo: IMDB
Previous
Next
BEGIN