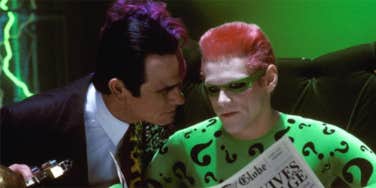 It wouldn't be a movie shoot without a little drama.
There's always some type of drama happening behind the scenes of a movie shoot or a television shoot. It's a fact that all those actors and actresses in one room can cause tension, especially with A-listers who are used to people fawning all over them, but sometimes that behind the scene drama comes out and all the dirty laundry is aired.
Jim Carrey recently confirmed to Howard Stern that he and Tommy Lee Jones did not get along on the set of Batman Forever. In fact, Carrey claims that he is "a little crusty."
"I walked into a restaurant the night before our big scene in the Riddler's lair and the maitre'd said, 'You're working with Tommy Lee Jones, aren't you?' And I said 'Yeah, I am.' He said, 'He's in the back corner, he's having dinner.' I said, 'Oh, great, I'll go say hi,'" Carrey told Stern. "I went up to say hi and the blood drained from his face, in such a way that I realized that I had become the face of his pain or something." He added, "He got up, kind of shaking, and hugged me and said 'I hate you. I really don't like you. I was like 'Wow, okay. Well, what's going on man?' And he said, 'I cannot sanction your buffoonery.' He did not want to work with me at that point."
Ouch! Here are 10 other celebrity feuds that went down on-set:
1. Ryan Gosling vs. Rachel McAdams
"Maybe I'm not supposed to tell this story," Nick Cassavetes told VH1, "But they were really not getting along one day on set. Really not. And Ryan came to me, and there's 150 people standing in this big scene, and he says, 'Nick come here.' And he's doing a scene with Rachel and he says, 'Would you take her out of here and bring in another actress to read off camera with me?' I said, 'What?' He says, 'I can't. I can't do it with her. I'm just not getting anything from this.' We went into a room with a producer; they started screaming and yelling at each other. I walked out. I smoked a cigarette and everybody came out like, 'All right let's do this'; And it got better after that, you know? They had it out… I think Ryan respected her for standing up for her character and Rachel was happy to get that out in the open. The rest of the film wasn't smooth sailing, but it was smoother sailing."
Photo: IMDB
2. Lily Tomlin vs. David O. Russell
The infamous video of Russell losing his mind on Tomlin is actually pretty hysterical. They were preparing for a scene in I Heart Huckabees, and Lily Tomlin is doing her actress thing and complaining and Russell loses it and runs to the desk screaming at her, and threw everything off the table. "F*ck you! I'm just trying to f*cking help you, you understand me?" he screamed. "I'm being a f*cking collaborator. I'm just trying to help you figure out the picture. Okay b*tch? I'm not here to be f*cking yelled at. I worked on this movie for three f*cking years not to have some f*cking c*nt yell at me in front of the crew when I'm trying to f*cking help you, b*tch. Figure it out yourself. F*ck yourself!"
Photo: IMDB
3. Kim Cattrall vs. Sarah Jessica Parker
It has been rumored for years that Kim Cattrall didn't like that SJP was making more than her on Sex and The City. All four girls have denied the rumors, but they kept creeping back up in the media. Finally Parker admitted that sometimes things did get heated on set. "When you're on set, you're working 90-hour weeks, you're never home, you're exhausted. There are times when all of us have been sensitive and sometimes feelings get hurt, but I don't have any regrets about how I've treated people."
Photo: IMDB
4. R2-D2 vs. C-3PO
The battle of the Star Wars besties as it's better know. in 2005, the R2-D2 actor, Kenny Baker reportedly said that they didn't socialize outside of their on-screen roles. "Anthony [Daniels] doesn't mix at all--he keeps himself to himself. He never wants to have a drink with any of us. Once when I said hello to him he just turned his back on me and said, 'Can't you see I'm having a conversation?' I was blazing with rage. It was the rudest thing anyone had ever done to me. I was furious. It was unbelievable."
Then in 2009 he brought up his enemy yet again, in an interview with Metro, "I thought it was just me he didn't get on with, but recently I've found out he doesn't get on with anyone. He's been such an awkward person over the years. If he just calmed down and socialized with everyone, we could make a fortune touring around making personal appearances. I've asked him four times now but, the last time, he looked down his nose at me like I was a piece of s*it. He said: 'I don't do many of these conventions - go away little man.' He really degraded me and made me feel small - for want of a better expression. He's rude to everyone though, including the fans."
Photo: IMDB
5. Will Smith vs. Aunt Viv
Remember when they randomly replaced Viv on Fresh Prince of Bel Air. Well apparently Will wanted her gone because they didn't get along and his wish was granted because they replaced her without saying a word about it. In 2011 Janet Hubert told TMZ, "There will never be a reunion ... as I will never do anything with an a**hole like Will Smith. He is still an egomaniac and has not grown up. This constant reunion thing will never ever happen in my lifetime unless there is an apology, which he doesn't know the word."
Photo: IMDB
6. Teri Hatcher vs. Wisteria Lane
There have always been major rumors about the cast of Desperate Housewives and their distaste for their costar Teri Hatcher, but it was confirmed toward the end of the show when the ladies all went in on a gift for the cast and Hatcher was clearly left off the card. Celebuzz reported a source on-set told them, "The girls don't get along with Teri so they organized this and left her out." Another incident was during the Vanity Fair shoot when supposedly, the girls threatened to walk out if Teri Hatcher was in the middle of the group shot.
Then, exhibit C, when Nicollette Sheridan sued the creator Marc Cherry and in Cherry's testimony, he claimed that Sheridan called Hatcher, the "meanest woman in the world."
Photo: IMDB
7. James Franco vs. Tyrese
Annapolis tore these two actors apart. In an interview with Playboy Tyrese said, "I never want to work with him again, and I'm sure he feels the same way. It felt very personal. It was f**ked-up." However, Franco claims that he's tried to apologize for his cold behavior on the set. "Maybe I was too into that role. I don't try to be mean to anybody on a movie. In the past I've tended to isolate (myself), and maybe people take that as me being rude or me not liking them, but it's really a way for me to stay in my character," he told Complex Magazine.
Photo: IMDB
8. Christian Bale vs. a poor bastard on "Terminator Salvation"
Shane Hurlbut is the poor guy that broke Christian Bale's concentration while walking on set twice of Terminator Salvation. Hurlbut, the director of photography learned quickly to stand down. "I want you off the f*cking set, you prick. What the f*ck are you doing?" The cursing goes on for almost four minutes as the guy in the background attempts to apologize. Bale was not having it.
Photo: IMDB
9. Dennis Hopper vs. Rip Torn
Back in 1969, Rip Torn was supposed to be in Easy Rider. He was supposed to play Jack Nicholson's role. However, Dennis Hopper told Jay Leno that they had to recast Torn because he pulled a knife on him during an on-set argument. After those accusations came out Rip Torn filed a defamation lawsuit against Hopper claiming that Hopper had pulled the knife on him. Whatever the case, these two won't be working together again.
Photo: IMDB
10. Bill Murray vs. Lucy Liu
One day while filming Charlie's Angels, Bill Murray stopped in the middle of a scene to tell Lucy Liu that she can't act. She did not take it lightly. She reportedly began throwing punches at the actor and they had to shut down production for a day so that everyone could cool off.
Although Liu admitted there was an argument, she claimed that the punching and the shut down were totally false. "There was not a big thing that happened. It was a creative difference about the script. This whole movie there was some creative issues about the script and the writing. They had a scene for me and they had written it in a certain way. He came in and obviously he's a talented writer and he's very smart, and he had a writer that he was working with as well. On that day, production did not shut down because I was there that day and I worked the entire day. It wasn't that big of a deal. If I had punched him or anything, I would have remembered."
Photo: IMDB
Previous
Next
BEGIN