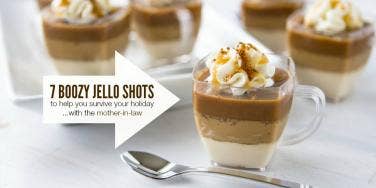 The in-laws are coming!
Does the mere thought of a visit from your in-laws cause a spike in your heartrate and a pit in your stomach? You've probably already endured off-handed comments about the cleanliness of your home or your lack of cooking skills from your mother-in-law. I've been there too and the only way to properly survive this week is booze.
Seriously. Spike your cocoa. Wino the dinner. Whatever you do, keep the adults mildly sedated. Then kick it up a notch for yourself. Make some happy holiday memories (or go for a total lack of them) with adorable holiday-themed jello-shots.
You'll feel like a freshman frat star while tossing back these boozy snacks. They slide down so quick, and taste so ... well ... tasty, you'll be able to snap back a shot or two long before Dear Old Mom-in-Law finishes listing off her latest medications. Xanax ain't got nothing on a wiggly little shot of Espresso-Kahlua Jello.
So as you prep your Thanksgiving menu, add these 7 Jell-O shots to the list. There is one for every day of the week that The MIL will be visiting. One for every day of the week you won't just be surviving ... you will be smiling.
Photo: Brooke Lark
7 Boozy Jell-O Shots To Help You Survive Your Holiday
7 Boozy Jell-O Shots To Help You Survive Your Holiday ... with your mother-in-law.
1. Caramel Macchiato Jelly Shots
2. Mudslide Jelly Shot
Deliciously creamy mudslide jelly shots are poured inside chewy chocolate chip cookie shot glasses. And yes, you CAN eat the shot glasses!
Photo: Brooke Lark
3. Gingerbread Martini Jelly Shots
Who needs a gingerbread cookie when you can have his gingerbread martini jelly shot? It's a sweet, creamy and subtly spicy treat, topped with a tiny dollop of whipped cream and a maraschino cherry.
Photo: Michelle Palm
4. Cosmopolitan Jelly Shots
Add some glamour to the night with these perfectly pretty cosmopolitan jelly shots. There's just no way to mess these up!
Photo: Michelle Palm
5. Eggnog Jelly Shot
All is merry and bright when there's an eggnog jelly shot involved!
Photo: Michelle Palm
6. Candy Cane Martini Jelly Shots
7. Apple Cider and Buttered Rum Jello Shots
Previous
Next
BEGIN