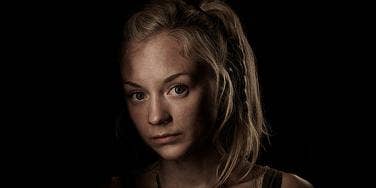 Beth makes it so hard for us to like her.
Season 5 of AMC's The Walking Dead has been insane so far, and we're only a few episodes in to this installment of the series. Warning: Beware of spoilers ahead if you're not caught up!
One person who's been missing all season until now? Beth Greene, daughter of the late Hershel Greene and sister to badass (and one half of the best TV couples ever) Maggie Greene. (Remember when we all thought the Terminus cannibals fed Beth to the rest of TWD survivors?) Emily Kinney plays Beth Greene, and until tonight, Beth was pretty much the most insufferable non-villain character on the show: An attention starved, nagging, needy teenage girl who thinks that the zombie apocalypse can somehow still end in Lisa Frank-style rainbows and sunshine.
Seriously, in case you're wondering if Beth really was that irritating or if I'm just being catty, think of it this way: Maggie was much more focused on finding her boyfriend, Glenn, than she was on finding her own sister. And until tonight, could you really blame her?
Here's why Beth Greene was seriously the living worst on The Walking Dead. Here's hoping she keeps trying to change our minds so we can love her as much as we love the rest of the survivors ... except Carl. He got Dale killed, so I don't know if I can ever love Carl.
Beth Greene is whiny.
Listen, I get it. It's the zombie apocalypse. Life is hard. But Beth just makes it annoying on top of awful.
Photo: AMC
Beth always needs to be rescued.
Sometimes even from herself. Because it's not like the rest of the group have walkers, governors or cannibals to worry about, right Beth? Right Beth?
Photo: AMC
Beth is a babysitter who needs a babysitter of her own.
Considering that before Beth Greene was in the hospital she needed constant protection because she was basically useless, why would anyone leave her alone with Judith? Plus, we have Tyreese for that now anyway.
Photo: AMC
Beth Greene sassed and stressed Daryl Dixon.
Daryl Dixon, the Perfect Man, has a soft spot — not in a creepy way — for helpless little girls like Beth and previously Sophia. So of course, Beth gives him attitude when they're stuck in the woods and he's hunting for their food. Sure, they buried the hatchet later over moonshine and arson (two of my favorite things!), but if she weren't so bratty there wouldn't have been any issues in the first place.
Photo: AMC
Beth has poor taste in booze.
Peach schnapps? Really?
Photo: AMC
A relationship with Beth is basically a kiss of death.
Remember Zach? And Jimmy? No? That's because everyone Beth dates dies almost immediately.
Photo: AMC
Beth is a good shot ...
... but it took her three seasons. Even Andrea wasn't that slow, and Andrea was and remains, at least so far, the Absolute Worst. (And that's partly because Andrea misused her fantastic aim to shoot Daryl Dixon.)
Photo: AMC
Beth has few discernible skills useful to the zombie apocalypse.
Oh, you can sing "Kumbaya" around a campfire? That'll come in handy never.
Photo: AMC
Previous
Next
BEGIN