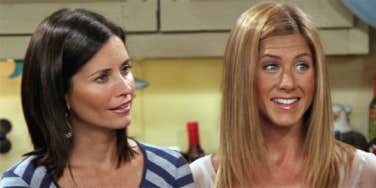 T.I. says "Women can't get along," but that's a lie.
Yes, girls are catty, and we get jealous of other women quite easily, but to say that women don't like each other is a flat out lie. Most girls have plenty of female best friends. In fact, women who "don't get along with other women" are subject to questioning, because there is nothing more important than a bestie.
They are there for the most important moments in your life and who else is your boyfriend supposed to call when trying to pick out the perfect gift. They know everything, including deleting your Google search history if you die.
We've put together a list of 10 celebrity females who are best friends forever, just to remind everyone how awesome best friends are.
1. Jennifer Aniston and Courteney Cox
Monica and Rachel have been best friends since their time on Friends. Jen was named Coco's godmother and Jen was even proposed to by Justin Theroux while at a dinner party at Courteney's house.
Photo: IMDB
2. Taylor Swift and Karlie Kloss
Taylor is also besties with Selena Gomez, Lorde and Sarah Hyland.
Photo: Instagram
3. Amy Poehler and Tina Fey
Everyone knows that Amy and Tina have been best friends for a long time and have performed together, written and worked on movies together, were on SNL together, host the Golden Globes together. Basically these two do everything together and it's adorable.
Photo: IMDB
4. Salma Hayak and Penélope Cruz
Hayek and Cruz are often spotted together and Cruz often talks about their friendship. In Allure magazine last year she said, "She's one of my best friends. We call each other huevos [eggs]. It was because when we were working together, we didn't have children yet, so we used to sleep much more than now. So it was a way to call each other lazy."
Photo: IMDB
5. Oprah Winfrey and Gayle King
Most famous female friendship of all time.
Photo: Instagram
6. Nicole Kidman and Naomi Watts
These two have been friends since they met at Sydney Girls High School in Australia. They were in one movie together back in the 90s, but have since stayed friends.
Photo: IMDB
7. Liv Tyler and Kate Hudson
These two grew up together since they both had famous parents (that's Goldie Hawn and Steven Tyler for those of you living under a rock). They attended the same high school in LA and went on to star in a few movies together. She recently Instagramed this picture captioned: "Reunited! 20 years of cherished friendship!"
Photo: Instagram
8. Katy Perry and Rihanna
Back when Katy Perry thought marrying Russell Brand was a good idea, Rihanna planned her bachelorette party. There is nothing that says best friends more than the person who plans your last single night on the town … even though Katy Perry and Brand lasted 10 minutes.
Photo: IMDB
9. Sisterhood of The Traveling Pants cast
These four best friends are constantly meeting up together. Alexis Bledel, Amber Tamblyn, America Ferrera and Blake Lively have stayed best friends since playing on-screen best friends in Sisterhood of The Traveling Pants and it's kind of adorable.
Photo: Instagram
10. Lena Dunham and Jemima Kirke
Lena Dunham and Jemima Kirke have been friends since childhood. They attended Saint Ann's School in New York and her Girls character, Jessa is actually written about her, which is why Lena asked her to play the part herself.
Photo: IMDB
Previous
Next
BEGIN