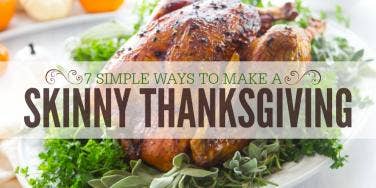 Avoid holiday weight gain!
It's been long asserted that the average eater will put on about 5 pounds during the holidays. (YAY....no.) When researchers looked at these numbers, however, the reality was a bit more waist-line friendly. The actual weight gain over holiday season? One pound.
Just a pound! Time to celebrate, right? Break out the whipped cream and pumpkin pie! But hold up a sec. Further research into the average holiday weight gain showed that most people never lose that 1 pound. Packing on a pound per year may not sound like a lot, but add it up over a 10-year period and you'll be up one dress-size in no time at all.
Sadly, the weight gain stats are even worse if you're already overweight. They've been shown to gain up to 5 pounds during the holidays. Again, that's 5 pounds that's rarely burned off. Compare that to traditional "dress sizes" where one dress size typically equals about 10 pounds of weight gain, these numbers mean you'll be bumping up to a bigger size every two years. (And that's JUST because of weight gain taken on from October to December!)
Serving up these sobering statistics isn't a call for alarm; it's a call for action. Wouldn't it be great to indulge this year without the guilt and weight gain? With a few simple substitutions, you can turn traditional high-calorie holiday dishes into low-cal dreams.
We've found 7 skinny ways to eat Thanksgiving dinner and trust us, you'll give thanks for these amazing recipes. And so will your scale!
7 Skinny Ways To Eat Thanksgiving Dinner
7 Skinny Ways To Eat Thanksgiving Dinner
1. Skinny Pumpkin Pie
Now that you've polished off your low-cal Thanksgiving dinner, serve yourself a big piece of this incredible skinny pumpkin pie.
Photo: Gina Homolka
2. Healthy Mushroom Gravy
Go ahead, smother your turkey in this healthy mushroom gravy. Replace fat-laden drippings with fat-free stock for a creamy, delicious sauce.
Photo: Perry Santanachote
3. Slimmed-Down Sweet Potato Casserole
4. Lightened-Up Green Bean Casserole
5. Olive Oil Mashed Potatoes
6. Sausage, Sage, and Apple Stuffing
7. Easy Herb-Roasted Turkey
This succulent herb-roasted turkey is just what your Thanksgiving table needs, and sets the stage for your amazing low-cal sides!
Photo: Leigh Burton
Previous
Next
BEGIN