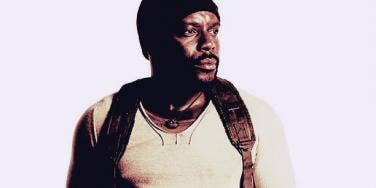 Who can resist a guy who fights zombies and has a heart of gold?
The Walking Dead on AMC may be the most romantic TV show out there right now, believe it or not. The zombie apocalypse brings out the inner lover in most of the cast as they fight off the undead — and sometimes the living. We've already showed you why Daryl Dixon is the perfect man, why Michonne is a flawless queen, why Carol Pelletier is one of the bossest bitches ever on television and how Maggie and Glenn can teach all of us a thing or 11 about relationships.
One character who hasn't had the best luck in love on The Walking Dead is Tyreese. And that's unfortunate, because Tyreese, played beautifully by The Wire star Chad L. Coleman, would make one heck of a husband. Here are 11 reasons Tyreese is marriage material, walkers and cannibals be damned. (Note: If you're not caught up, beware of spoilers ahead!) Is your heart extra broken now? It's okay. We understand. Mourn him with us here and celebrate his memory:
Tyreese has an extremely honest and expressive face.
Tyreese would probably be the worst liar on The Walking Dead, which means if you tie the knot with him, you can trust everything he says. He's literally too good a man to deceive you.
Photo: AMC
Tyreese believes in team work.
Tyreese is always willing to pitch in and help his friends, and unlike pain the ass Carl Grimes or basic bitch Beth Greene, he does a lot more than eat pudding or sit around singing "Kumbaya" like there isn't a zombie apocalypse happening.
Photo: AMC
Tyreese will let you know when he's angry.
It takes a lot for Tyreese to get angry, but when he does, he will let you know. He'll let you know in a very, very big way.
Photo: AMC
Tyreese is a handy man.
You know how most millennial men supposedly can't change a tire or a lightbulb or fix a leaky faucet and other simple tasks around the house? Tyreese can do all of those things, then bash a walker's brains it with the same tool. It's almost like he was born in a Home Depot parking lot or something, but minus the potential complications and defects that are associated with giving birth in a wheelbarrow.
Photo: AMC
Tyreese has strong family values.
Tyreese is protective of his sister Sasha, yet never interfered with her relationship with Bob. Solid bro.
Photo: AMC
Tyreese has a good sense of direction.
You know the lame stereotype that men never ask for directions? Tyreese never asks for directions because he is a master navigator and can even find his way around an unmarked forest. You'll never be late to your sister's wedding or niece's graduation if you have him at the helm.
Photo: AMC
Tyreese would be an amazing father.
LOOK AT TYREESE HOLDING JUDITH. JUST LOOK AT IT. If your ovaries aren't crying, you either don't have a soul or don't have ovaries.
Photo: AMC
Tyreese isn't afraid to question authority.
Tyreese didn't let Rick Grimes intimidate him, which is good, because sometimes Rick Grimes talks to his basic bitch imaginary dead wife Lori.
Photo: AMC
Tyreese is a romantic.
Remember when Tyreese gave Karen flowers? In a prison? In the zombie apocalypse? The end of the human race doesn't have to mean the end of courtship and romance.
Photo: AMC
Tyreese is an amazing judge of character.
Tyreese somehow knew , deep down, before all of us did, that Carol Pelletier was a secret BAMF. Even after she murdered and incinerated his girlfriend. This is one man whose instincts are incredible.
Photo: AMC
This photo.
I mean, I'll just leave this here.
Photo: AMC
Previous
Next
BEGIN