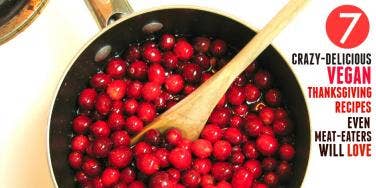 Plant-based eaters rejoice!
Thanksgiving dinner is a time for everyone to come together. Pilgrims ... Indians... turkey lovers ... and vegans. The holiday meal of goodwill can so often turn into a time of terror for plant-based dieters. You show up to dishes laden with butter, eggs, sausage, cream, and meat—and you're left to nosh on a measly green salad drizzled with olive oil.
It's pretty incredible, actually, to consider how non-plant-based a classic Thanksgiving menu is:
The Turkey: not vegan
Sweet Potato Pie with Marshmallows: not vegan (contains eggs & gelatin)
Stuffing: not vegan (contains animal broth)
Mashed Potatoes: not vegan (contains cream and butter)
Green Bean Casserole: not vegan (contains cream of mushroom soup)
Dinner Rolls: not vegan (typically contains eggs, milk, and butter)
Pumpkin Pie: not vegan (contains eggs)
Whether you're cooking dinner for yourself, trying to keep an array of special-dieters pleased, or wanting to try on healthier new recipes this year, these 7 simple recipes are total crowd-pleasers. Even uber-picky, meat-and-potato eaters will dive into these dishes. Add one to your table for a healthy option or serve up the whole menu and enjoy more plants, less meat. (And a whole lotta delicious eating!)
Photo: sxc.hu
7 Vegan Thanksgiving Recipes Even Meat-Eaters Will Love
7 Vegan Thanksgiving Recipes Even Meat-Eaters Will Love
Photo: sxc.hu
1. Pomegranate Mousse Cake
2. Mini Vegan Pumpkin Pies
3. Pomegranate Orange Sweet Potato Bake
4. Warm Autumn Tart
No Thanksgiving centerpiece? This lovely Autumn Tart takes center stage on the table, and tastes just as good as it looks!
Photo: Johanna Frenkel
5. Vegan Lentil Shephard's Pie
6. Spiced Carrot Soup With Crispy Chickpeas and Tahini
This gorgeous Carrot Soup is creamy and satisfying, exactly what you need for a Thanksgiving starter dish.
Photo: Nicole Perry
7. Lentil Mushroom Walnut Balls
These Lentil Mushroom Balls are festive, filling and a great vegan protein option for your holiday feast!
Photo: Angela Liddon
Previous
Next
BEGIN