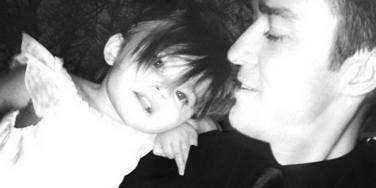 Whether Jessica Biel is pregnant or not, here's 11 reasons Justin Timberlake will crush it as a dad.
Justin Timberlake and Jessica Biel are a relatively low-key Hollywood duo. The pop singer/actor and actress are reportedly expecting their first child together. O to the M to the F to the G! Baby Timberlake? A Justin Timberlake spawn? The 'Lake has procreated and sired?
Relax, relax, relax. While Timberlake and Biel have yet to confirm that they are indeed preggers, the rumors are ballooning like J. Biel's belly will be if she is, in fact, with child. Word on the gossip street is that Biel is approximately three months along and will welcome their little nugget in April.
While we don't know for sure if this is the case, it's still fun to speculate about what kind of totally rad dad Timberlake will be. We're sure that Biel will be a lovely mom, but come on and admit that the notion of JT changing diapers, toting his (as of right now imaginary) child around in a Baby Bjorn and crooning lullabys while his infant falls asleep in his arms is a totally "Awwwww"-inducing thought, now isn't it?
Timberlake is 33 and Biel is 32. Both have established careers. Now is a perfect time for them to start their family.
Here are 11 reasons that JT will crush it as a father and be a rad dad or a DILF, which, as anyone with a grasp of pop culture parlance and lingo will know is a "Dad I'd Like to f--k."
Justin Timberlake is really, really hot. So are good fathers.
1. What's hotter than a man with his kid?
Photo: Instagram
He's hilarious!
10. Ever look at a male celeb and think, "Dude, he'd be such a fun dad?" JT totally inspires that thought.
Photo: Instagram
Even President Obama loves JT.
9. He demonstrated swagger and held his own during a meeting with the President.
Photo: Instagram
He knows who's in charge.
8. He was a boss with The Boss, aka Bruce Springsteen.
Photo: Instagram
He knows how to entertain tykes.
7. His childhood was about work, as an entertainer and in the Mickey Mouse Club. So it would make sense that he would totally go out of his way to make his kid enjoy … being a kid. He could also relive his own somewhat interrupted youth.
Photo: Instagram
Justin Timberlake is always a class act.
6. Justin Timberlake does everything with panache. Fatherhood will be no different.
Photo: Instagram
Uh, he's Justin Timberlake. We need that in the gene pool.
5. He's Justin Freaking Timberlake! He is estanlished, good-looking and talented. Now, he needs to spawn, which means his kid, if it's a boy, could go help launch a new generation of boy bands with that talent in his paternal DNA. Plus, his famous ex, Miss Britney Spears, has two sons of her own. JT needs to play catch up, y'all.
Photo: Instagram
He's already conquered every other imaginable job.
4. He has had enough life experience as a boy bander, a solo artist and an actor. It's time to add "dad" to the resume. It's the only major life experience he appears to lack — on paper and in public perception, at least.
Photo: Instagram
Justin Timberlake knows how to have fun!
3. He is like a kid at heart and playful. See his SNL hosting gigs or his new iPhone commercial with Jimmy Fallon. The latter is just his voice, but the wide-eyed wonder is there. You can hear it. That will translate as he raises a child.
Photo: Instagram
This baby will have the coolest godparents ever.
2. He has a network of godfathers — Lance Bass, Joey Fatone, Chris Kirkpatrick or JC Chasez — who can look after his offspring and teach him or her dance moves while babysitting when JT and Jessica Biel have date nights.
Photo: Instagram
Justin Timberlake is already a godfather!
11. He is a godfather to this cutie pie, named Sophia. So he has practice. Now, it's time for him to be a father himself!
Photo: Instagram
Previous
Next
BEGIN