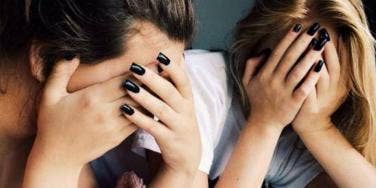 Oy vey.
Kids, be forewarned: the mother of all facepalms is coming your way. No, make that 10 of them. We polled the editors in the YourTango office, and came up with 10 messages from dating sites that are too ridiculous to believe. From propositions for sex to sketchy proposals to one that reeks of xenophobia, we can't quite make heads or tails of these messages.
For example, who thinks it's okay to ask a complete stranger for sex over the internet? Never mind the fact that I could totally have been a serial killer (I'm not, so no worries), but seriously, let's practice a little common sense, shall we? But these messages keep coming in, and we doubt they will ever stop. Which is why we had to pick our top 10, out of a seemingly limitless pool of freakiness.
And these hot messes are just from a few girls in our office! We didn't even reach out to the world at large, because we didn't have to. We were able to mine for nuggets in our own back yard. And y'all, we struck gold. We're still scratching our heads over some of these, but we'll leave the judgment up to you. Enjoy.
Photo: WeHeartIt
You don't say!
That's one slick fella, right there.
Tenacity!
She almost went for it, just to reward his cojones.
Right to the point!
In answer to your question, no.
Oy.
Because there's nothing a girl loves more than being ordered around by a complete stranger.
*jaw drop*
Kids, this came in EASTER. MORNING!
Lazy.
At least put a little effort into finishing a sentence.
Previous
Next
BEGIN