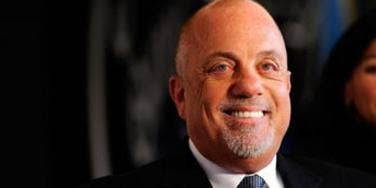 These eight celebs are model citizens. They date supermodels almost exclusively.
It must really suck to be Billy Joel. While the singer's new "authorized biography" details some of the unsavory stuff of his spectacular life, like a suicide attempt, it also reveals that he has a predilection for dating supermodels.
He was married to Christie Brinkley forever, and he reveals he once had a date with Brinkley and then a date with another model, the lovely Elle Macpherson, that same day. What a tough life for "The Piano Man," right?
Joel is not the only male celeb who serially dates supermodels, though. Leonardo DiCaprio, who is still a bachelor and is turning 40, is a perennial dater of models. So is Maroon 5 singer Adam Levine. Both men are considered handsome hunks almost universally, but models don't always go for fellow famous dudes who are as attractive as or prettier than they are.
Joel, who is not exactly a traditional looker, gets the babes. As does Mick Jagger of the Rolling Stones.
At the end of the day, you love who you love, and you are attracted to who you are attracted to! Looks are very secondary.
See eight male celebs who pretty much exclusively date models. What superhuman ingredients comprise their mojo? Guess we'll never, ever know!
Leonardo DiCaprio
As Amy Poehler and Tina Fey said at the 2014 Golden Globes, "Like a supermodel's vagina, let's give a warm welcome to Leonardo DiCaprio." It was a brilliant zinger because it was 100 percent unarguable and true. Leo was loved up with Gisele for many years before she married Tom Brady. He also dated Israeli model Bar Refaeli for a chunk of time. He hooked up with Blake Lively, who is practically a model, and now Toni Garrn, who is 22, is the object of Leo's affections.
Photo: IMDB
Billy Joel
The singer and songwriter admitted to a suicide attempt and to dating not one, but two supermodels...in the same day in a new memoir. He was married to Christie Brinkley. But had a date with Elle MacPherson while dating The Brink. He was also wed to Katie Lee, who was decades younger and hot, too! Maybe he writes songs for his paramours?
Photo: IMDB
Orlando Bloom
The period piece actor married model Miranda Kerr, who is the mother of his son Flynn, but he also dated model/actress Kate Bosworth and Helena Christensen. He is as pretty as they are.
Photo: IMDB
Johnny Depp
The pretty actor's dating resume is littered with major models. He has been with Kate Moss, Vanessa Paradis, with whom he has two kids, and is now engaged to Amber Heard. All models, all gorgeous.
Photo: IMDB
Seal
The singer is most famous for marrying (and splitting with) German supermodel Heidi Klum, but he also reportdly dated model and talk show host Tyra Banks.
Photo: IMDB
Mick Jagger
The Rolling Stones rocker was married to models Jerry Hall and Bianca Jagger. He also dated and had a son with Brazilian model Luciana Gimenez. His daughter Georgia May is also a model. Models dominate Mick's life! He's a model citizen for sure.
Photo: IMDB
Joe Jonas
The former boy bander always, always dates hot women, having been seen with Karlie Kloss before she blew up and attained huge levels of fame and having had a long-term relationship with Swiss model Blanda Eggenschwiler. He was rumored to recently be dating reality star x model Gigi Hadid, too. He also squired Ashley Greene, Taylor Swift and Demi Lovato. What's Joe got, dudes? Clearly, it's something else, since his dating resume is the A-est of lists.
Photo: IMDB
Adam Levine
The Maroon 5 singer and The Voice coach likes models of the Victoria's Secret type. He dated Anne V for a while, but then moved on with Behati Prinsloo, split with her, had a pitstop romance with Nina Agdal, then got back together with and married Prinsloo.
Photo: IMDB
Previous
Next
BEGIN