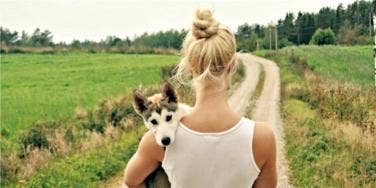 When was the last time you made a dog's tail wag?
Do you ever find yourself wishing you could just be with animals all day? Do you love dogs? Cats? Wildlife? If you find yourself ever wanting to give back to animals in need or help them find a loving home (maybe your place???), volunteer at an animal shelter! Many of them are non-profit and no-kill organizations, striving to make the world a better, more loving place for abandoned and unwanted animals. These shelters often depend on volunteers for their success. Showing the animals a little TLC and pitching in with projects like adoption days, providing foster homes, and giving tours to prospective owners is just what these shelters need!
If you volunteer, you'd quite literally be the difference between life and death for some of these animals. They need all the support and affection they can get—and trust me, they won't be the only ones enjoying all the attention. Volunteering at an animal shelter feels significant and you can go home at the end of the day knowing you made a huge difference in these furballs' lives. So instead of watching Netflix for the next few hours (yes, I know how amazing it can be) or perusing your ex's pictures on Facebook (cut that out already), sign up at one of these amazing shelters, get your cuddle on, and do something meaningful!
Photo: We Heart It
Brooklyn Animal Resource Coalition (BARC)
This is the adorable Diamond, one of many animals at BARC who would appreciate your help! BARC, a non-profit, no-kill shelter in Williamsburg, Brookyn, is looking for volunteers to walk their dogs and socialize in the awesome-sounding Cat Loft. Go show your love today!
Brookly Animal Resource Coalition
Photo: BARC
No-Kill Los Angeles
NKLA has one mission: to end the unnecessary killing of animals by 2017. This Best Friends Animal Society initiative provides spaying and neutering services, pet adoption centers, and most importantly, unconditional love. Since its launch in 2012, NKLA has helped decrease the number of animal killings at city shelters by 50%. Volunteer, spread the love, and help that percentage reach 100!
Photo: NKLA
Pets Are Worth Saving (PAWS) - Chicago
PAWS is also a no-kill community where volunteering is the crucial element to their success. They have a huge variety of opportunities for volunteers including, but not limited to, a foster program, adoption counseling, welcome center volunteering, and helping out in Kitty City and Dog Town. At PAWS, you're bound to find something you'll enjoy and those critters will definitely appreciate it, too!
Photo: PAWS
Animal Rescue League of Boston
The Animal Rescue League of Boston is always looking for volunteers — and you could be one of them! You can sign up for dog training, event planning, and even help them work on creative projects. No matter what you choose (I'd choose to be a Canine Companion!), you're going to be making a huge difference in these animals' lives.
Photo: ARL
Pelican Harbor Seabird Station - Miami
If you're looking for something a little different than cuddling with dogs and cats, try Pelican Harbor Seabird Station in Miami. Originally opened in 1980 for the purpose of treating injured brown pelicans, PHSS has grown into a non-profit organization that rehabilitates and cares for injured wildlife, with the goal of releasing them back into the wild. Volunteer there and show your love to all kinds of different wildlife!
Pelican Harbor Seabird Station
Photo: PHSS
Philadelphia Animal Welfare Society (PAWS)
Another PAWS with another great cause! The Philadelphia Animal Welfare Society is a non-profit that is dedicated to saving the homeless animals of Philedelphia and eventually making the city a no-kill city. But they can't do it without your help! Volunteer there by socializing and bathing the animals, working the adoption events, or even providing administrative support.
Philadelphia Animal Welfare Society
Photo: PAWS
Previous
Next
BEGIN