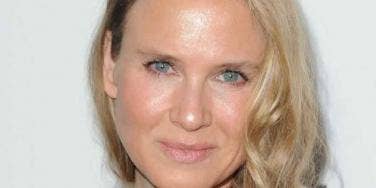 Renee Zellweger had a brilliant response for critics of her looks. Others have done the same.
Renee Zellweger took a serious hit in the media this week, all because of her face. After turning up at an event looking markedly different, with no age lines and seemingly tight, pulled back skin, the media pounced, speculating that the the Oscar-winning actress had had some serious work of the nip and tuck sort done on her face. Instead of ignoring the Mean Girl-like, public Burn Book, Zellweger shot back at her critics and gossip hounds, addressing and attributing her evolving looks to the fact that she changed her lifestyle and is entering a new and different phase in her life.
While some media types might read her comments, then look at her visage, and think "Hmm" while not believing her, at least Zellweger stood up for herself and responded to the speculation when she could have done nothing. But this doesn't feel like a case of the lady doth protest too much.
Zellweger is by all accounts a lovely woman and a talented actress, yet people are all kinds of caught up in her looks.
Her brilliant response? "I'm glad folks think I look different. I'm living a different, happy, more fulfilling life, and I'm thrilled that perhaps it shows."
Amen sister!
The actress is in her 40s, she is happy and that's what she hopes people are seeing.
Here are 9 other celebs that defended their criticized or changed looks!
Katy Perry
1. Katy Perry: The "Califoria Gurl" gained a few pesky pounds and the pregnancy rumors spun out of control during her marriage to Russell Brand. The singer addressed such nonsense, telling fans at a 2011 Madison Square Garden show that it was not baby weight, instead blaming the fact that she was bloated on the fact that she ate too much "New York City pizza." Mangia!
Photo: IMDB
Drew Barrymore
9. Drew Barrymore: The former child star's curves are her pride and joy. She happily declared, "God made a very obvious choice when he made me voluptuous; why would I go against what he decided for me? My limbs work, so I'm not going to complain about the way my body is shaped."
Photo: IMDB
Rihanna
8. Rihanna: The pop diva made an astute observation, reportedly saying, "Being a size zero is a career in itself so we shouldn't try and be like them. It's not realistic and it's not healthy."
Photo: IMDB
Lea Michele
7. Lea Michele: The singer and Glee actress is often compared to Barbra Streisand, thanks to both her voice and her looks. Some might think Michele needs a nose job. You know who disagrees with that assessment? Oh, just Michele herself. She once said, "I was one of the only girls in my high school that didn't get a nose job. And if anybody needed it, I probably did. I'm proud to be on a positive show and to be a voice for girls and say, 'You don't need to look like everybody else. Love who you are.'"
Photo: IMDB
Lena Dunham
6. Lena Dunham: The Girls writer and star was grossed out when her unretouched Vogue cover images were dissected online by Jezebel. While Dunham is often hammered for letting it all hang out on her show, she dubbed their decision "messed up" and "gross," saying, "I think Jezebel is really smart and funny, I think it's just like, once you've been attacked that way, it's hard to enjoy. It's hard to enjoy once you feel like they've made such a monumental error in their approach to feminism."
Photo: IMDB
Emma Watson
5. Emma Watson: The Harry Potter star is gorgeous but she is often talked about for her looks and her hair, and isn't into being objectified. She was quoted as saying, "I keep telling myself that I'm a human being, and imperfect human who's not made to look like a doll, and that who I am as a person is more important than whether at that moment I have a nice figure." #Truth
Photo: IMDB
Mindy Kaling
4. Mindy Kalling: The funny gal and Ivy Leaguer cares not what you think of her size, declaring, "If someone called me 'chubby,' it would no longer be something that kept me up late at night. Being called 'fat' is not like being called 'stupid' or 'unfunny,' which is the worst thing you could ever say to me." What's that sound? Oh, just our hearts fluttering and beating rapidly over our new girl crush.
Photo: IMDB
Khloe Kardashian
3. Khloe Kardashian: The reality star once overhead her mom Kris Jenner saying that Khloe needed a nose job. Khloe was 9 (!!!) at the time. Mother "nose" best, apparently? Nah! Kardashian recalled, "She didn't mean harm, but when I was around nine, I overheard my mom telling her friend I needed a nose job. I was shocked; I hadn't even thought about it." Well, most nine-year-olds don't. She finished, "I've grown into my face, but I've had makeup artists tell me, 'You should get a nose job.' I'm so happy that I never have." Right on, girl!
Photo: IMDB
Lady Gaga
2. Lady Gaga: Ma Monster also packed on a few pounds when back at home and eating carbs with the Germanotta family. This born and raised New Yorker admitted, "I love eating pasta and pizza. I'm a New York Italian girl. That's why I have been staying out of New York. My father opened a restaurant. It's so amazing. It's so freaking delicious, but I'm telling you I gain five pounds every time I go in there. So my dad wants me to eat at the restaurant, and I'm, like, 'I've got to go where I can drink green juice.'" Even so, Gaga was not bummed at the comments, saying, "I really don't feel bad about it, not even for a second. I have to be on such a strict diet constantly. It's hard because it's a quite vigorous show, so I tend to bulk up, get muscular, and I really don't like that. So I'm trying to find a new balance." Gaga also launched her Body Revolution love-yourself-as-is social media movement in response to the critics.
Photo: IMDB
Renee Zellweger
10. Renee Zellweger: The much-documented response was even longer, and the actress said, "My friends say that I look peaceful. I am healthy. For a long time I wasn't doing such a good job with that. I took on a schedule that is not realistically sustainable and didn't allow for taking care of myself. Rather than stopping to recalibrate, I kept running until I was depleted and made bad choices about how to conceal the exhaustion. I was aware of the chaos and finally chose different things … Perhaps I look different. Who doesn't as they get older?! Ha. But I am different. I'm happy."
Photo: IMDB
Previous
Next
BEGIN