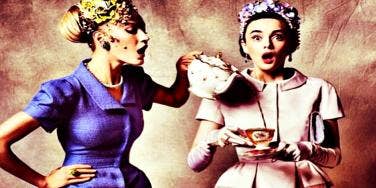 After reading this study, introverts may want to put that cup of joe down.
For as long as I can remember, I've pretty much been a tea aficionado. There's something about waking up to a nice, warm and light cup of herbal bliss that trumps drinking coffee everytime; in fact, as an introvert, curling up with a good book while sipping delicious blends should be the only way to spend the day. Having something healthy that gives me the same energy boost but without the crash definitely comes in handy on those days where cramming in notes for midterms and finals becomes my M.O. For those of us who want to lead a healthy lifestyle, remember that tea is totally a hug in a mug.
It's funny to think that I come from a family of coffee lovers who dip their bread in a freshly roasted and dark cup of mocha while I just munch on macarons and sip on some bitter goodness (I like to pretend that I'm just coloring outside of the lines). But apparently, there's actual science behind my aversion to coffee.
In a recent study, Cambridge University psychologist Brian Little found that there's a connection between your personality type and the overall effect that coffee will have on you. The craziest aspect of this is that his tests indicate that coffee reduces an introvert's level of productivity; introverts are believed to be more stimulated than extroverts. But don't worry, we've got you covered.
From the intoxicating aroma to their amazing health benefits, these herbal blends are definitely the perfect alternatives. Not only will they get you out of your slump, they'll also make you love mornings again. In fact, we're pretty much bet that these healthy teas will make you give up on coffee once and for all!
Photo: Weheartit
1. Pumpkin Chai Tea
All you need is one sip to figure out why chai is considered a staple blend. Even with its milky texture and spicy undertones, it's versatile enough that you can add any ingredient and still come out with a mind blowing mix.
Health benefits: As a whole, chai promotes good digestion. For starters, healthy living site Mind Body Green mentions that cinnamon and black pepper both promote anti-inflammation and are antioxidants.
Photo: Tumblr
2. Lavender Tea
Whenever I brew lavender tea, I love mixing in hints of mint and rosemary for an alltogether calming effect. It's the best remedy for a long day at work or can even double as a romantic drink for a night in.
Health benefits: Lavender has been scientifically proven to be soothing and even alleviates stress.
Photo: Weheartit
3. Hibiscus Ginger Tea
Now that we're deep into the fall season, you will be amazed by just how much the floral and spicy tones in this blend compliment those cool days. If you're feeling extra fancy, I would suggest switching out the ginger for pomegranate and cinnamon (because who doesn't like living life on the edge?).
Health benefits: According to Livestrong, hibiscus flowers can lower cholesterol as well as reduce blood pressure.
Photo: Foodista
4. Peach Green Tea
I love drinking my green tea with mint and peach (and a dash of lemon if I'm feeling adventurous) because of their contrasting flavors. The best part is that it even tastes just as good served hot! As I never add any sugar to my tea, I was pleasantly surprised by how juicy this was.
Health benefits: Recent studies show that drinking green tea can lower the risk of heart disease and also reduces stress. One of its most popular uses today is for weight loss.
Photo: Tumblr
6. Orange Chamomile Tea
What could be better than a tea blend that is pretty straight forward to make and is really versatile? I never thought that orange and chamomile would mesh so well; I don't think I'm ever turning back!
Health benefits: According to The Tea Talk, the chamomile petals help combat insomnia, anxiety and depression.
Photo: Weheartit
7. Lemon Herbal Tea
With all of the herbs infused into this mix, the possibilities are endless. If you've been itching to try new ingredients for your juice cleanse, dried lemons and lemongrass will give you the kick you need.
Health Benefits: Lemongrass is known for its anti-inflammatory and anti-oxidant properties and boasts an impressive variety of vitamins and nutrients (including vitamin A and C, iron, and potassium).
Photo: Weheartit
8. Jasmine Oolong Tea
You can never go wrong with a tall cup of this crazy delicious blend. Bottoms up!
Health benefits: Oolong and jasmine tea are often used for weight loss and to help lower blood sugar, respectively. Jasmine can also strengthens your immune system against the common cold.
Photo: Pinterest
9. Earl Grey Tea
Whenever I'm feeling stressed or anxious, Earl Grey is my go-to brew. Also, I can't help feeling classy whenever I drink it.
Health Benefits: The bergamot in this tea acts as a great stress reliever and helps prevent heart disease.
Photo: Weheartit
10. Raspberry Leaf Tea
Girls, this is one super drink you won't want to miss! I've found that this is the perfect remedy for those days that Mother Nature doesn't want to be nice to your uterus (AKA get ready to say goodbye to those PMS days).
Health Benefits: The raspberry leaves in this tea work as a fertility booster, reduce labor pains and also strengthen your uterus.
Photo: Pinterest
Good Idea
At the end of the day (regardless of if you're a bona fide coffee lover or not), drinking tea is always a good idea.
Photo: Weheartit
Previous
Next
BEGIN