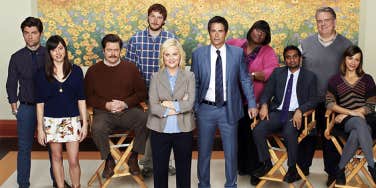 Get to know your favorite 'Parks and Rec' characters in the eyes of Amy Poehler.
Parks and Recreation is coming back for one final season, and to be honest, it's a very bittersweet moment for those of us who have spent seven years enjoying the town of Pawnee, Indiana, the parks department, Leslie Knope and Ron Swanson's mustache. (By the way, if you haven't seen Nick Offerman's musical tribute to whiskey, you're missing out.)
Amy Poehler, AKA Leslie Knope, released with her book, Yes Please, in October, and there is a whole chapter on the show and the amazing cast that we've grown to love over the past seven seasons. For each person she writes a paragraph talking about how much she loves them, what she loves about them, her favorite show moment with said character, the show moment that she laughed the hardest while filming and something that you didn't know about the actor.
Between her laughing at Chris Traeger playing the air banjo in an episode to her sobbing uncontrollably when Ben Wyatt proposed to Leslie, this chapter gives an inside look that fans have been waiting for. Here are 9 things you didn't know about the cast of Parks and Recreation, according to the wonderful Amy Poehler.
1. Rashida Jones (Ann Perkins)
Rashida and Amy have an "obsession with miniature fake food."
Photo: IMDB
2. Nick Offerman (Ron Swanson)
Although Ron Swanson comes off as hating most things (except bacon), Nick is obsessed with his two poodles.
Photo: IMDB
3. Aziz Ansari (Tom Haverford)
Per Amy: "Aziz went to business school."
Photo: IMDB
4. Aubrey Plaza (April Ludgate)
According to Amy, "Aubrey has a shrine to Judy Garland in her house."
Photo: IMDB
5. Chris Pratt (Andy Dwyer)
Chris can actually play the guitar and helped create some of the Mouse Rat songs on the show.
Photo: IMDB
6. Rob Lowe (Chris Traeger)
Just call Rob Lowe "RoLo," because that's his nickname on set and he apparently loves it.
Photo: IMDB
7. Retta Sirleaf (Donna Meagle)
"[Retta's] aunt is the president of Liberia."
Photo: IMDB
8. Jim O'Heir (Gary/Jerry/Larry Gergich)
Amy swears that Jim has a huge tongue.
Photo: IMDB
9. Adam Scott (Ben Wyatt)
"Adam grew up in Santa Cruz and insists it's totally acceptable to drive barefoot."
Photo: IMDB
Previous
Next
BEGIN